Cuba is one of those destinations that is so interesting that it attracts millions of people every year.  It is a unique country in the Caribbean due to its history which gives people a great reason to visit if its amazing climate and spectacular beaches weren't enough!
In the past, the majority of visitors came from Canada and Europe since Americans weren't allowed to visit, but those restrictions have been loosening in recent years.  However, there are still certain restrictions that Americans need to be aware of before their trip.
While the history in other Caribbean countries is typically limited to some colonial architecture in a few cities, in Cuba it's a whole other story.  Due to trade restrictions with the US, much of Cuba is still stuck in the 50's with the most famous example of this being the 50's era cars found in Havana!
In addition to Havana, other historic cities and towns worth a visit include Cienfuegos, Trinidad, Camagüey, Santiago, and Baracoa.  However, there's also lots of natural scenery worth experiencing like the whole Vinales region which is full of lush greenery and is where the majority of the tobacco for Cuba's famous cigars is produced.
And of course, you can't forget about all of Cuba's spectacular beaches.  Cuba is a top resort destination with many all-inclusive resorts that rival those of its Caribbean neighbours.  Most resorts are located in Varadero, Cayo Coco, Cayo Santa Maria, Cayo Largo, and near Holguin, all of which are great choices for your vacation.
So whether you want to immerse yourself in the rich culture and history of the island or you're just looking for a nice beach vacation at an all-inclusive resort, you should definitely consider a visit to Cuba!
Similar to most islands in the Caribbean, Cuba benefits from a tropical climate that keeps the island nice and warm all year round.  However, there are two seasons which you should be aware of: the dry season, which takes place in the winter and spring, and the rainy season which takes place is in the summer and autumn.
The best time to visit Cuba is during its dry season (December – April) as temperatures are very pleasant and the skies typically stay blue.  If you want to escape the crowds and benefit from lower prices, try going in May or June.
If you plan to travel in the summer or autumn, be aware that it is typically hurricane season, especially in September and October and that July and August are secondary high seasons.  And if traveling during the high season, make sure to reserve your transportation and accommodation in advance to avoid sold-out tickets and fully-booked rooms.
High Season: December – April & July – August
Low Season: May – June & September – October
Largest Airports:
1. Havana (HAV) – José Martí
2. Varadero (VRA) – Juan Gualberto Gómez
3. Holguín (HOG) – Frank País
4. Cayo Coco (CCC) – Jardines del Rey
5. Santiago (SCU) – Antonio Maceo
Citizens of some countries can enter Cuba visa-free for between 28-90 days, depending on the country.  However, citizens of most countries (including the USA, UK, Canada, Australia, and all of the EU) must purchase a Green Tourist Card before their trip (unless entering Cuba via a flight from the US, in which case you need a Pink Tourist Card that the airline should help you acquire).  This card is valid for 30 days (90 days for Canadians) and can also be extended once for the same amount of days.
If entering via a flight from Canada, the card will be given to you by the airline and is included in the price of the flight ticket.  If entering via a flight from Mexico or Latin America, you purchase it from the airline check-in counter.  And if entering the country by any other means, you have to buy the card in advance from the airline (check if yours sells them), a Cuban embassy (cheapest option), a travel agency, or a licensed online retailer.
If you are not a citizen of a visa-exempt or Tourist Card-eligible country, then you have to go to the nearest Cuban embassy and apply for a tourist visa to be granted entry unless you are a permanent resident or hold a visa for Canada, the US, or any country in the EU (in which case you qualify for the Tourist Cards).
The Hepatitis A and Typhoid vaccines are recommended, especially if traveling to rural areas.  Also make sure you are up to date on your standard vaccinations and consult a health professional for further advice.
Cuba has two official currencies: the Cuban Convertible Peso (CUC/$), pegged 1:1 to the USD and often referred to as the tourist currency, and the Cuban Peso (CUP/$), often referred to as the local currency. In most cases, you will be using CUC as CUP is only useful for small local purchases like street food or bus fare.
The two are distinguishable in that CUC notes have monuments on them whereas CUP notes have portraits on them. Remember this as some locals may try to scam you by giving you lower-valued CUP instead of CUC when exchanging money or getting change.
Note: airports are the only place where neither CUC nor CUP are accepted and you must use USD, CAD, or EUR instead. Exchange any leftover CUC or CUP before going to the airport as you will not be able to exchange them outside of Cuba.
Both CUC and CUP notes come in denominations of $1, $3, $5, $10, $20, $50, & $100, but you can also find CUP notes of $200 & $500.
Both CUC & CUP are further divided into 100 centavos (¢) with CUC coins coming in denominations of 5¢, 10¢, 25¢, 50¢, & $1 and CUP coins coming in denominations of 20¢, $1, $3, & $5.
CUC coins are octagonal in shape whereas CUP coins are circular with the only exception to this rule being the $1 CUC coin which is also circular.
Use the currency converters below to determine the latest exchange rates for both currencies.
Cuba uses 3 different outlet types.  Just like most of the Americas, they use the Type A and Type B outlets, but they also use the Type C outlet which is useful for European travelers.  Type A plugs can fit in Type B outlets, but not vice versa.
It is not guaranteed that you will find an outlet of each type in every building in the country so it is recommended to travel with a compatible adapter for each one just in case.
Get your compatible Type A/B adapter here.
Get your compatible Type C adapter here.
The voltage used in Cuba is 110V, but some hotels use 220V.  Check which one your hotel uses and learn more about how this may affect your electronic devices in my Guide to the Top Travel Accessories.
Tipping is expected in Cuba as locals typically earn lower wages and rely on tips to supplement them. Tips should be given in CUC. When tipping, here are some guidelines to follow:
Hotel Bellhops: $1-2 CUC per bag
Hotel Housekeepers: $1-2 CUC per day
Restaurant Servers: 10% of the total bill unless you see a service charge on the bill (some places include a service fee) and $1-2 CUC per meal if staying at an all-inclusive resort
Bartenders: $1-2 CUC per drink
Stores: round up to the nearest whole number
Taxi/Uber Driver: $1-2 CUC
Tour Guide: 10% of the total tour price on single-day tours and at least $5 CUC per day on multi-day tours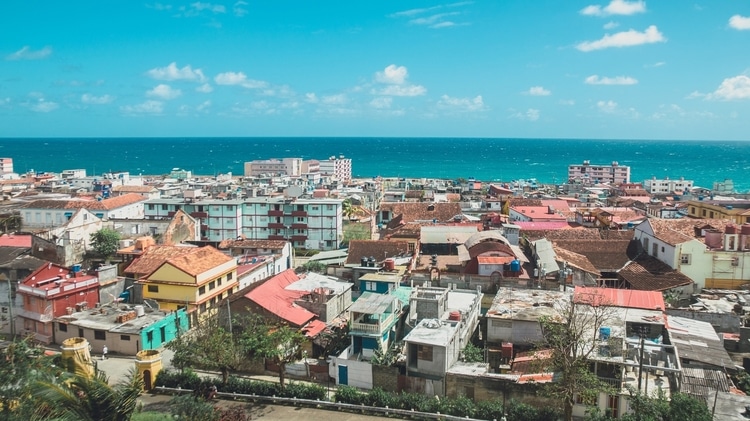 Cuba doesn't have the greatest 4G LTE coverage so 3G capability is essential.  Make sure your phone is GSM-compatible with at least one of the 3G frequencies and the 4G LTE band used in the country to ensure you will always have a connection. 
Learn more about this in my Guide to Travel-Ready Phones.
Note: if you're only staying in a resort, you may not need to worry about this as most resorts have wifi anyways.
Information about local prepaid SIM cards in Cuba

Calling Code: +53
Emergency Numbers: 106 (Police), 104 (Ambulance), 105 (Fire)
3G Frequencies Used: 2100 & 900
4G LTE Band Used: 3