This page may contain affiliate links which means I get a small commission, at no extra cost to you, if you make a purchase with them. This helps keep the site running and the travel tips coming! For more info, check out my Privacy Policy & Disclosure.
While Google Flights is the main tool you should be using to find flights for your travels, Momondo is another tool which should also be a part of your flight planning and booking process.  
Momondo is somewhat similar to Google Flights in the sense that it is also a flight search engine, but the main difference is that Momondo also shows you ticket prices from all the Online Travel Agencies (OTAs) which can sometimes be cheaper than the prices offered by the airlines themselves!
Before you start using Momondo, you should already be familiar with Google Flights.  Check out my Guide to Google Flights if you aren't.
Now let's see Momondo in action.
To get the most out of Momondo, you should have already found your ideal travel dates and flights on Google Flights since it is quicker and easier to use for this purpose.  So let's say I want to fly roundtrip from San Francisco to Bangkok from March 7th-15th with our favourite filters on. 
This is what Google Flights finds for us: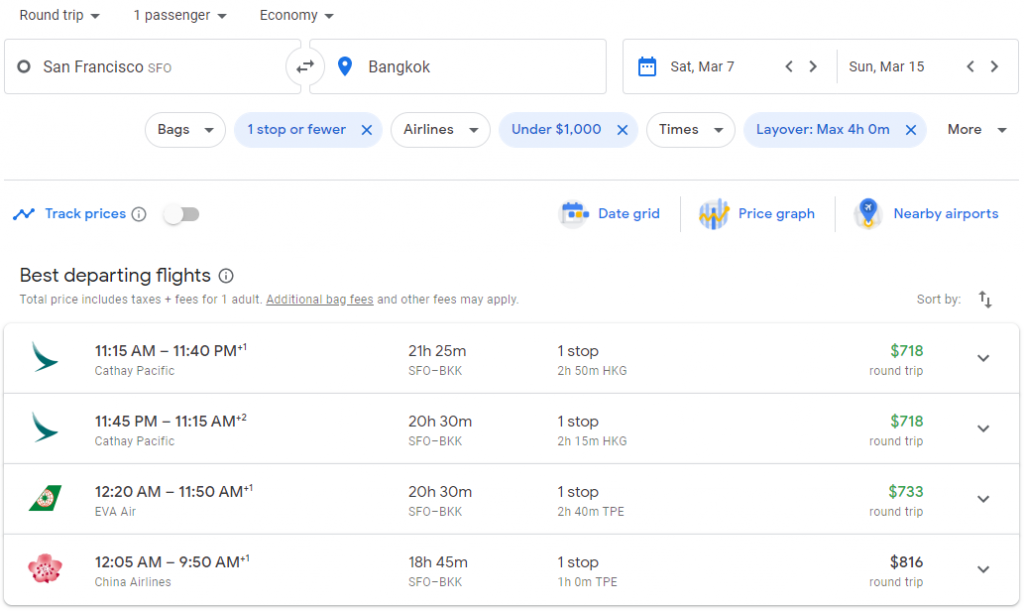 Now let's see what we can find on Momondo.  This is what you see when you first go to Momondo.com:
Once I input my departure airport, destination airport, and travel dates, I can click search to see my results.  
Before I do that though, I want to make sure I uncheck any of the "compare" boxes that might automatically be checked for me underneath the date fields because they open other windows to other sites to compare prices which is annoying and unnecessary for me.  But if you're curious and you do want to compare the prices with some of those other sites, then feel free to!
Once you click search, you will get your list of results (after waiting about 30 seconds for the site to load all the flights).
Note: the reason Momondo takes what feels like forever to load all the flights is because it is pulling prices from every OTA that exists in their system and not just the airline's prices.  But patience can mean savings!
Now before I analyze the prices it gives me for my search, I should first add the same filters I used in my Google Flights search to make sure I replicate my results.  This is one thing you can actually do while you wait for the page to load to save yourself some time.  The filters for Momondo are located on the left side of the search results page:
I will uncheck the 2+ stops filter so it only shows me direct or 1-stop flights and I will also move the slider for the Layover filter so that it only shows me flights with a maximum 4 hour layover.  
I will also change the order of the flights shown to Cheapest by clicking on it at the top.  By default, Momondo orders the flights by what it considers to be the best ones, but since we already know what flights we want, we just need to see the cheapest prices available.  
These are our results with the filters on: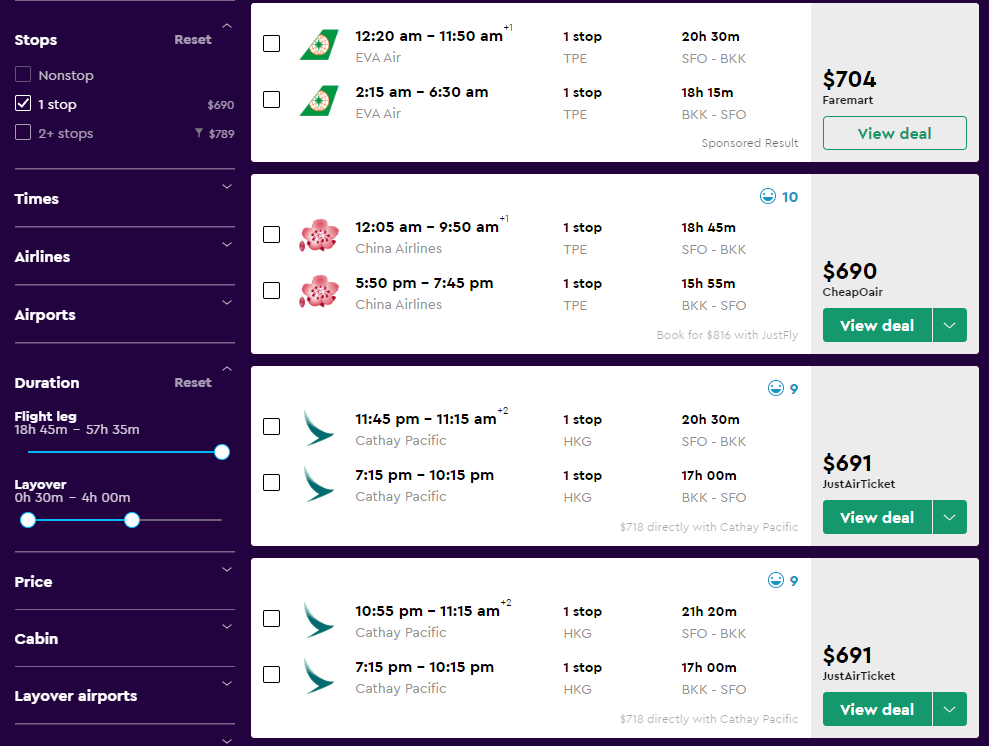 You're probably wondering why the first result is more expensive than the next 3 if I ordered them by cheapest.  Well if you look closely at the bottom of the first result, you'll see that it is a Sponsored Result.  We can just ignore that one and look at the next ones. 
The cheapest trip available is the China Airlines flight for $690 from CheapOair.  If we check our Google Flights results, we can see that this exact same flight is $816 if booked directly from China Airlines. 
So that's $126 in savings if I book it using the OTA found by Momondo!  
In addition, the next two Cathay Pacific flights are $718 if booked directly from Cathay Pacific via Google Flights, but only $691 if booked using JustAirTicket via Momondo which means $27 in savings!
Clicking View Deal will take you to that OTA's website to let you book the flight (you might have to disable your adblocker if you have one).
If you click the arrow next to View Deal, you can see the prices for other OTAs as well if you don't want to buy your ticket from the first one Momondo suggests (which is the cheapest).
And that's all there is to it!
There's no need for me to go into more detail about all the other features that Momondo offers or the layout of its website because I only really recommend using it as a secondary resource after Google Flights anyways.  Google Flights does everything you need when looking for flights, Momondo just helps you find cheaper prices if you're lucky! 
One thing I will mention though is to ignore the price graph that is displayed at the top of your search results on Momondo as it never takes into account your filters and isn't always accurate.
All-in-all, Momondo is great for getting that extra little discount on the flights you were already planning to buy!
By the way, you're probably wondering how it's possible that an OTA could have cheaper prices than the airline itself or whether these OTAs are trustworthy.  I tell you everything you need to know in my Guide to Online Travel Agencies.