This page may contain affiliate links which means I get a small commission, at no extra cost to you, if you make a purchase with them. This helps keep the site running and the travel tips coming! For more info, check out my Privacy Policy & Disclosure.
So I'll admit that I've never actually flown with Southwest Airlines since I have lived most of my life in Canada and they don't fly here, but I've heard great things about them from some of my American friends!
What makes them special is that while you can sometimes see nonstop Southwest flights on Google Flights or Momondo, you'll never be able to see their prices or any of their connecting flights since they don't share that data with anyone else. They are the only major airline that does this.
What does this mean?
It means that the only way you can see the prices for and book Southwest flights is by using their website.  
Therefore, I have put together this guide to show you how to find and book Southwest flights since it's a different process to Google Flights and Momondo. 
You might be wondering why Southwest gets this special treatment?
Well apart from being one of America's largest airlines, Southwest has some cool perks that are almost unheard of from airlines these days and they can often be cheaper than other major US airlines so it is definitely worth looking for their flights if you're flying within the US or between the US and Central America or the Caribbean.
Let me show you what perks I'm talking about:
1. Awesome Cancellation Policy
Every ticket class that Southwest offers allows you to cancel your flight reservation with them up to 10 minutes before your flight without incurring any fees.  
You won't get a full refund (unless you picked one of the more expensive fare options), but you will be allowed to keep 100% of the value of your ticket as credit which can be applied to future travel with them for up to 12 months which is essentially like a refund if you plan to travel with them again anyways!
2. Free Carry-On & 2 Free Checked Bags
Every Southwest flight you take guarantees that you not only get a free carry-on measuring up to 10 x 16 x 24 inches in addition to your personal item measuring up to 18.5 x 8.5 x 13.5 inches, but you also get two free checked bags with a max weight of 50 pounds each and maximum size of 62 inches (length + width + height) per piece.  
This alone can make a huge difference if you're traveling with a lot of luggage!
3. Southwest never overbooks their flights
A lot of airlines these days overbook their flights in an effort to make some extra money since there are people out there that book flights, but don't end up taking them (crazy, I know).  Airlines see this as an opportunity to sell more tickets than available for the same flight to fill up the plane and make a few more sales.  
It's a practice that everybody hates, but luckily for us, Southwest doesn't do it so we never have to worry about being re-booked onto the next flight because too many people showed up to the one we initially booked!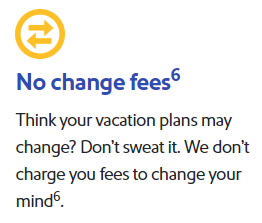 4. Awesome Flight Change Policy
Every flight that you buy from Southwest can be swapped out for another one at no extra charge (you still have to pay the difference in the price of the fare though).  
This means that if your plans change, you don't have to worry about paying a huge fee just to change your flight, you just pay the difference in the price of the flight!
And this goes both ways too.  If the flight you want to change to is cheaper than the one you initially purchased, you receive the difference back in credits which can be applied to future travel! 
A cool travel hack is to regularly check the price of the flight you booked (unfortunately, price trackers can't track Southwest flights so you'll have to do it manually) and every time the price is cheaper, re-book yourself on the same flight to collect all those extra credits!
In general, Southwest flights are very comparable in price to the other major US airlines and with all these awesome perks, you get a lot more value from your tickets, especially if you know you're going to be traveling with a lot of luggage!
Oh how I wish Southwest flew to Canada.  But enough of the praise.
Let me show you everything you need to know about finding and booking flights with Southwest Airlines: