Taking the example I gave in Part 2 of my Guide to Google Flights (which you should definitely read first if you haven't yet), I will show you how a method I call split-ticketing can save me almost $150 on a round-trip flight from Vancouver, Canada to Krakow, Poland.
If purchased normally (using the techniques I show you in that guide), it would cost $817 for that return trip.  With split-ticketing, it would only cost $669.06. 
So what is split-ticketing and how would it save me almost $150, you ask?
Well how it works is that instead of searching for flights that go from point A to point C, you search for 2 different flights utilizing a common connection hub as the location of point B.  For example, there are no direct flights from Vancouver to Krakow and the $817 flight I found has a stopover in Frankfurt. 
Frankfurt is a major transit hub in Europe (especially for Lufthansa), but there are several others too such as Paris, Amsterdam, and most notably, London.  But you don't have to go and research what the major transit hubs in your desired region are because if you use Google Flights' Explore Map that I talk about in Part 2 of my Guide to Google Flights, you can easily see them for yourself!
If your map is crowded and you're not sure which hub is the cheapest to fly to, an easy way to find it is to use the Price filter and filter out destinations until you only have 1 or 2 left as options.  
But in my case, I don't have to do that because one immediately stands out: I can fly to London for only $539 return! 

If I look at the details of this flight, I can see that I arrive at London Heathrow (LHR) at 11:20 AM on March 8th and depart from Heathrow again at 2:30 PM on March 15th.
This gives me the whole afternoon and evening of the 8th to catch a flight to Krakow and the whole morning of the 15th to catch a flight back to London. Let's see what's available!
I'm going to search for one-way flights to get the full array of options. Starting with the flight to Krakow, I want to make sure that I'm only shown flights that I can reasonably catch so I will also adjust the Times filter to show me flights that depart from London after 2 PM on the 8th.
*Generally, you want to make sure you give yourself enough time to catch your connecting flight, especially if you're going to be changing airports. Your stopover time is up to you and how risky you want to be, but to play it safe, I would generally go for at least 2 hours between flights if it's the same airport and at least 4 if you have to change airports.
After sorting by the cheapest flights available, this is what I see: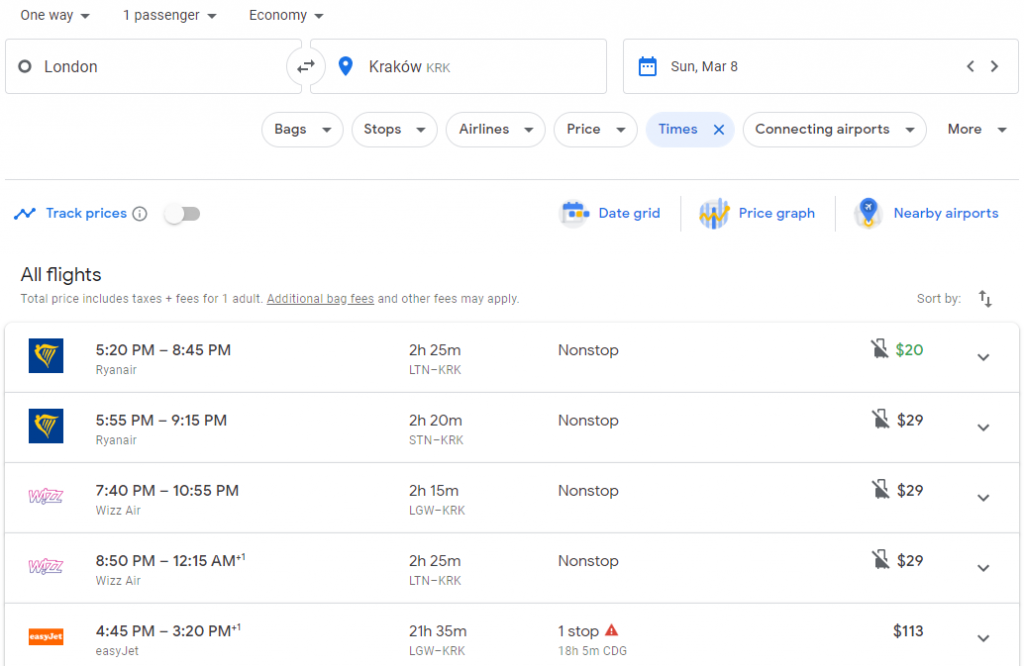 The cheapest outbound flight in this search is a Ryanair flight that leaves at 5:20 PM from London Luton (LTN) which is another airport in London, but there are 5.5 hours between flights if I go with that one which I think is a safe amount of time between flights so I'm probably going to choose it.  Let's now look for the return flight.
Similar to the previous search, I'm going to look for one-way flights on the 15th that arrive in London before 12 PM: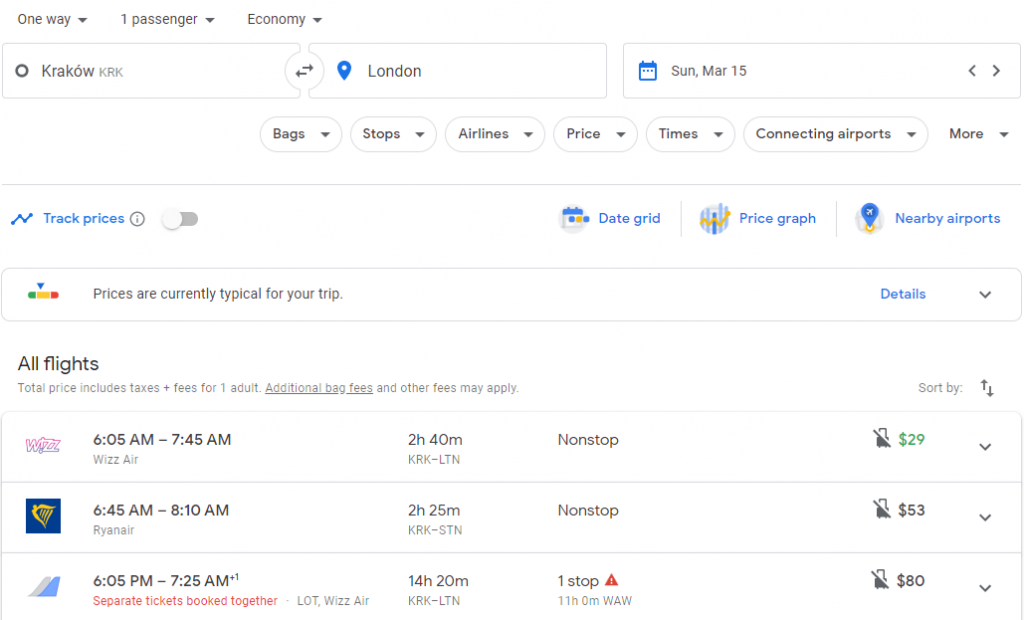 So the cheapest flight here is a Wizzair flight that arrives at London Luton at 7:45 AM which gives me about 6 hours between the time I arrive at Luton and the departure time of my flight back to Vancouver so this flight seems perfect!  
Next I will have to figure out how I will get from Heathrow to Luton and back.
Note: as I was researching these flights over two or three days, the price of both the Wizzair and Ryanair flights increased and decreased by several dollars every day so you always want to make sure you act fast when planning out your travels!
A good way to figure out how to get between airports in a city is to ask the internet! I might create a page dedicated to this in the future, but you can typically find this information simply by googling it, so this is what I'm going to do now.
Googling how to get between these airports gives me 3 options: taxi/uber (hell no, too expensive), train (still too expensive), and a shuttle bus offered by National Express (ding ding, we have a winner!).  
The shuttle bus to and from Luton costs £15 each way with an extra £1 for the transaction made on their website for a total of £31.

There's only one other thing I need to figure out.  If I'm looking to bring a bag larger than 45 x 25 x 20cm (17.7 x 9.8 x 7.9in) with me, then I will have to consider the cost of my carry-on bags as well since both Ryanair and Wizzair are budget airlines that charge you extra for your carry-on. 
Learn more about these two airlines and other budget airlines in my Guide to Budget Airlines, if you haven't checked it out already!
If I don't need the extra bag and I can get by with the personal item that Ryanair and Wizzair allow me to bring on board, then I'd save myself even more money!  But let's assume I am going to bring a bag larger than the personal item with me.  I am going for a week, after all!  
Let's check how much it would cost me for each airline.  The only way you can get the most accurate price for a carry-on bag is to go through the booking process for each airline because they make it different for each flight so I'm going to do that now:
So Ryanair is charging an extra $12.50 for a carry-on bag for the Krakow flight and Wizzair is charging 88 Polish Zloty (which is roughly $22.72 USD) for the London flight.
Let's now add up all the costs to see how much money I would save by split-ticketing:
Return flight from Vancouver to London – $539
Return bus from London Heathrow to London Luton – $40.84 (converted from £31)
Ryanair flight from London Luton to Krakow – $20
Carry-on for Krakow flight – $12.50
Wizzair flight from Krakow to London Luton – $29
Carry-on for London Stansted flight – $22.72 (converted from 88 PLN)

TOTAL: $664.06 with a carry-on and $628.84 without (savings of $152.94 and $188.16, respectively!)
If you're serious about saving money, this is a good way to do it!  Sure, you have to cross London twice and add several hours to your travel time, but that's $152.94/$188.16 back in your pocket and it's hard to argue with that!  
That money could go towards your accommodation in Krakow for which there are also several ways to find for cheap (you can learn how in my Guide to Cheap Accommodation).

But before you run off and book your flights, make sure to read these important notes on split-ticketing:
1. You must go and retrieve any checked luggage that you may have had once your first flight has landed (if you only have carry-on luggage, then this does not apply to you).  
Once you've retrieved your checked luggage, you must go and check it in again for your second flight.  After this, you must go through security and customs again.  
The reason you have to do all this is because since you purchased the tickets to each destination separately, the airline will not transfer your checked luggage to your next flight.  It is only when you buy packaged flights from airlines or travel agencies that the airline will transfer your checked luggage between flights.  
And if you don't have checked luggage, you will most likely still need to go check in for your second flight at the check-in counter (unless you have already checked in online, which is now offered by most airlines, and you checked in before arriving at the airport).  After which, you will likely still have to go through security and customs again.
2. You must allow enough time between flights to catch the second flight.  This is something that I've already stated, but that I really need to reiterate.  
My general guideline is that if the second flight departs from the same airport, you should allow at least 2 hours between your arrival and your next departure.  If your second flight departs from another airport, you should allow at least 4 hours between them.  
The more time you allow between flights, the better.
The reason why is because there is a chance that your first flight could be cancelled, delayed, or just arrive late, and if you didn't allow enough time in between flights, then you could miss your second flight, especially if you have to go through the whole checked luggage situation I outlined earlier. 
If your first flight arrives late and you miss your second flight, then you are effectively screwed because the first airline is only responsible for getting you to your first destination since you purchased the tickets separately.  
If you had purchased a packaged flight, then the airline would definitely be responsible for getting you to your final destination and would reimburse you if they were late in bringing you to your connecting flight, but since you purchased the flights separately, they will not refund you for the flight that you miss as a result of them being late since it is your responsibility to get to that second flight in time, not theirs. 
That being said, the risk of a flight being delayed or late is quite low as about 85% of flights arrive on time (you can see the data for this yourself), which means there is only a 15% chance that your flight won't be on-time which is still pretty good and worth the risk in my opinion.  
If you really want to avoid the risk of missing your second flight, then you should allow yourself at least half a day in your connecting airport (and even longer if changing airports) in order to make your second flight, but I personally think 2 hours (and 4 hours if changing airports) is good enough.  
Another option is to turn your layover into a stopover and turn the connecting city into another stop on your trip!  For example, if you're going to Krakow, why not also spend a few days in London since you'll be stopping there anyways?  That's what I did when I flew to Barcelona a few years ago.  Spent the weekend in London because why not?
And that's all you have to keep in mind for split-ticketing!
But that's not the only way to save money on your flights, there are more strategies to budget flying and in Part 2, I'm going to teach you about how ridiculous airlines are with their pricing and how you can take advantage of it!