Budget airlines are the budget traveler's best friend.  They make traveling possible for everyone because of their low prices.  
In many cases, flying from one city to another can actually be cheaper than driving, taking the train, or even the bus.  You can usually find a flight on a budget airline for under $100 and often, under $50!  
I once bought a return Ryanair ticket from Nuremberg, Germany to Manchester, England for $11 total! (see below for proof)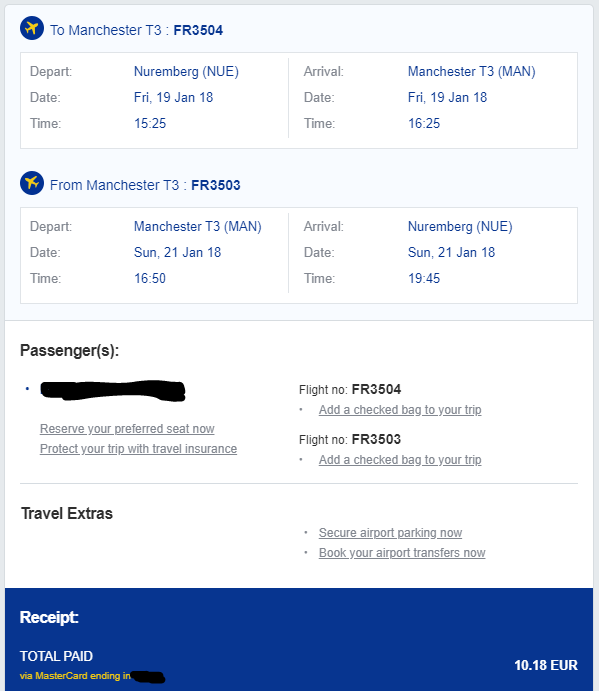 To give you some perspective, Ryanair (budget airline) is the largest airline in Europe in terms of passenger numbers as of 2019.  Budget airlines are so commonplace now that some destinations are only served by them. 
Therefore, even if you don't want to become a budget traveler, it's still useful to know your way around them because you may end up having to fly with one due to how ubiquitous they are.  They have become so popular that they have even started influencing the policies of major airlines like United who now actually charges for carry-on. 
So what's the catch?  
Well, the way these airlines are able to have such low prices is because they empty your wallet on many other fees that, if you're not careful, might end up making your flight cost way more than you anticipated. 
To help prepare you, here are the 8 things that you need to know about flying with budget airlines:
1. They don't always fly to major airports
Often, to lower costs, these airlines don't fly to the major airports that you're used to (like Detroit Metropolitan or Milan Malpensa), but rather to smaller regional airports that are usually outside the city (like Toledo Express or Bergamo Orio al Serio).  
So be ready to take a bus or train to get to the city you're actually planning on visiting when you arrive at these airports and put that cost into consideration when booking a flight.
I once had a friend that wanted to visit me in Barcelona so she booked a cheap flight with Ryanair to the location that they advertise as Barcelona Girona. 
When you're booking your flight on Ryanair's website, there is no indication of where the airport is actually located nor what the airport code is until you pay for it and receive the confirmation email.  If you're not aware of this as you're booking your flight, you may end up landing in a different city than you expected to land in.  
What happened was she landed in Girona, another city over an hour away from Barcelona!  Not realizing this until after she landed, she had to scramble to figure out how she was going to get to Barcelona before it got too dark.  
Avoid running into this situation in your travels by making sure to check where the airport your airline lands in is actually located.  Google Flights does a good job separating flights by their destination airport.
And remember, there is nothing wrong with landing in a smaller airport further away from the actual city, you just have to make sure you're prepared for it!
2. Comfort is not their top priority
What does this mean for you?  Well, it means that you'll be sitting in a small chair with barely any leg room.  If you're tall, you may find their seats to be quite uncomfortable.  They do this so that they can fit more seats on the plane since more seats = more passengers. 
In addition, don't expect to be served any meals, snacks, or drinks for free.  Everything will cost you extra, even water.  And their prices for food and drink are often higher than you'd expect so you're better off bringing your own food and drink with you on the plane.
But thankfully, most budget airlines only have flights that last a few hours so you don't have to suffer for too long, although some of them have started doing longer distance routes.  
I once flew with Norwegian from London to Seattle and I regretted that decision.  I naively assumed we would get food included since it was a 10 hour flight, but that didn't happen.  Their food options were also very overpriced so it was either starve for 10 hours or pay $25 for a meal not worth more than $10.  Lesson learned, come prepared with food beforehand!
3. They all charge you extra for checked luggage
Charging extra for checked luggage is one of the ways they squeeze more money out of you than you expected if you're not prepared.  This has become such a big revenue-generator for budget airlines that even major airlines like Delta and Air Canada have started charging for checked luggage as well.
The checked luggage fees will vary by airline, season, and route, but more often than not, they are cheapest as you make your booking, more expensive if you add them to your booking later, and most expensive if you try to add them at the airport.  Sometimes, the cost of checked luggage will be higher than the cost of the flight itself! 
So how do you avoid paying for checked luggage?
If you absolutely must travel with checked luggage, there is no way for you to avoid paying the fees involved.  To limit the amount you pay, make sure that you add the checked luggage to your booking when you're making it and make sure it doesn't go over the airline's size and weight restrictions. 
If possible, stick to traveling with a carry-on bag only as most budget airlines will still allow you to take one with you for free, but some have begun charging for those as well, as explained below.  Check out my Packing Guide for advice on how to pack less.
4. Carry-on bags have strict size and weight restrictions
In the past, all of them would let you have one carry-on bag free of charge, but these days some of them make you pay for it now.  
They still allow you to bring 1 "personal item" with you free of charge, but their size and weight restrictions for these personal items are often too small to be able to bring enough stuff with you on your trip, forcing you to pay for a carry-on bag, if not checked luggage.  As I mentioned at the beginning, even United, an airline that many considered to be normal one, has started charging for carry-on bags now.
In addition, they almost always have strict guidelines on what constitutes a personal item and a carry-on bag, including both size and weight of the bag.  These also vary by airline.  
If you exceed their size and weight limits for bags, even if it's only by one centimeter/inch or one kilogram/pound, they will charge you crazy fees.  Some airlines are more lenient than others when it comes to this and it also depends on the airport staff that are working at the time, but to avoid any headaches, just make sure that your carry-on bags aren't larger than the allowed measurements.
I once flew with Ryanair from Brindisi, Italy to Bologna, Italy and the airport staff actually weighed my bag to make sure it didn't go over the 10kg limit.  Mine was under 10kg, but my friend's bag wasn't and she ended up paying a fee as a result.
How do you know what your airline's carry-on restrictions are?
The best way to find out what the size restrictions for bags with your airline are is by looking at the airline's luggage policies.  They can usually be found in the travel information section or the FAQ of their website.
5. They will charge you if you don't check in online
Another way budget airlines get even more money from you is by charging you if you don't check in online before your flight.  They usually have a large fee for checking in at the airport and another one for printing your boarding pass for you. 
If you're not prepared, you could be facing a large fee.  This is how they make even more money from unsuspecting travelers who are used to being able to check in at airports for normal airlines. 
So how do you avoid paying these fees?
To avoid these fees, make sure you check in online before your flight and print your ticket at home if they don't give you a digital boarding pass.  You will still be able to drop off checked luggage without paying extra unless you forgot to purchase it online when you bought your flight.
6. They have an extortionate seating policy
The more I write about budget airlines and their policies, the more I'm convinced they are run by mafias.  These days most airlines will charge you to select your seats ahead of time, but budget airlines take it a step further. 
You see, most normal airlines will allow you to select your seats for free when you check in, either during the online check-in period or in person at the airport.  They will also make it so that if you get assigned random seating, you will still be given seats next to the rest of the people in your booking, but not budget airlines.
Oh no, budget airlines won't allow you to select your seats for free and they will even force you to pay extra just to be able to sit next to the other people in your booking.  They make it so that the system splits up your party in an effort to convince you to pay for seats next to the people you're traveling with. 
I feel like they shouldn't be allowed to do this, but until legislation gets put into place forcing them to seat people on the same booking next to each other, they will continue doing it since it's a good way for them to make some extra money.
So how do you avoid getting screwed over by the airline's seating policy?
The obvious answer here is to pay to change your seats so that you can sit where you want, but if all you want is to be seated next to the other people you're traveling with, the only other way to make it happen is detailed in my Guide to Getting The Best Seats On Any Flight.  
The bigger your party, the harder it will be to get seated together without paying, but if you're traveling solo or with just one other person, the tips I share in that guide will help ensure you never get the middle seat again!
7. They might have fees for some payment methods
When making your booking, they will often charge you extra if you pay by credit card or paypal (although not that much, just a few dollars more).  
This is because they have to pay merchant fees to Visa, Mastercard, and Paypal anytime a transaction is made with them.  Instead of accepting it as a cost of doing business or incorporating it into the price of the flight, they make you pay extra for it.
To avoid paying these fees, use a debit card to pay for your flights as there usually aren't any extra fees for that.
8. Changing or canceling your flight is expensive
While most airlines will charge you a fee to change or cancel your flight, budget airlines charge you even more.  Their fees for changing the name or any other detail on the ticket can be really crazy so make sure to triple check all your information before you buy your ticket. 
Your information needs to be exactly correct.  If you make even one typo, you may be denied boarding and if you catch the mistake before you board, it will cost you a fortune to change it.  
And don't even get me started on cancellation fees.  Don't expect to get your money back when you cancel a flight, you're better off just not taking it than cancelling it.
So if you choose to fly with a budget airline, make sure your information on the ticket is correct and that you're definitely going on the flight or else you risk losing money!

And that's all you need to know!
Don't let this guide scare you from flying with budget airlines.  As long as you're well-informed and know how to avoid the extra fees they charge you, they can be a blessing that enables you to travel for longer than you expected and to places that you never thought you'd make it to.  
I always fly with budget airlines and I'm super thankful for their existence!  And if you want to know some strategies to fly for cheaper, check out my Guide to Cheap Flight Strategies.