This page may contain affiliate links which means I get a small commission, at no extra cost to you, if you make a purchase with them. This helps keep the site running and the travel tips coming! For more info, check out my Privacy Policy & Disclosure.
Some of my favourite trips have been where I fly into one destination and come back home from another.  It lets me explore more than one destination and gives me more flexibility in my travels.  
If you are planning to travel for a long period of time and you don't know when you'll be coming back home or you are just planning to fly back home from a different destination/airport, then you will most likely be buying one-way tickets for your trip.  
Using the Multi-City option in Google Flights is one way of finding flights that fly to one destination and fly back from another, but I find it's better to just look for each of those flights as one-ways because you won't save any money booking a multi-city trip from an airline and it's just clunky trying to put it all on one page.  It's better to separate.
Booking one-way tickets for your trip can be pretty freeing as it lets you have more flexibility in your travel plans.  The trick I'm about to show you is a neat little way to save money on some of your one-way flights and also demonstrates just how ridiculous airlines are with the way they price their flights.
So let's get into it!
Now this probably sounds counter-intuitive to you, but in some cases a roundtrip ticket somewhere is cheaper than a one-way flight to that same place.  I don't really have an explanation for you as to why that is, but I can definitely prove it to you:
Let's say I'm in Dallas and I want to tour Spain for a while starting in Madrid, but I don't know when I'm coming back yet so I'm only interested in a one-way ticket for now.  Using Google Flights, let's look for a one-way ticket from Dallas to Madrid.  
The cheapest one-way flight available for March 1st is $1,007:  
Not really the most ideal flight either with 2 stops and 34.5 hours of travel time.  But let's see what return flights are available with the help of the Date Grid to find the cheapest option.
If you've never used the Date Grid before, make sure to read Part 3 of my Guide to Google Flights where I tell you all about it!
Let's first change the search settings to make it round-trip with a random return date for now.  Then, let's click on Date Grid:
Well would you look at that?  A return flight to Madrid leaving on the same day and returning on Mar 9th is only $788, a whole $219 cheaper than a one-way ticket! 
You're probably thinking, "there's no way that's true, it's gotta be a glitch or something".  
Well let's make sure by clicking on the price and checking out the flight details:
And there it is!  Two different roundtrip Delta flights to choose from, each with one layover and a total travel time of 12 hours for only $788.  Compare that to the cheapest one-way flight we found earlier and it doesn't even compare.  
Not only would we save over $200 by booking a roundtrip ticket, but the roundtrip flights are also way more convenient with only 12 hours of total travel time compared to 34.5 hours for the one-way flight!
It's crazy, I know.  But maybe you're thinking this was a fluke and there's no way I can find another example.
Challenge accepted. 😎
Not only will I give you another example, I will give you one that will blow your mind.  
Let's say I have to cut my trip shorter than I expected and go back to Dallas on March 22nd at the latest, but I still want to finish my time in Spain on a high note so I'm going to spend my final days there in Ibiza.  Let's see how much a one-way ticket for Ibiza-Dallas costs: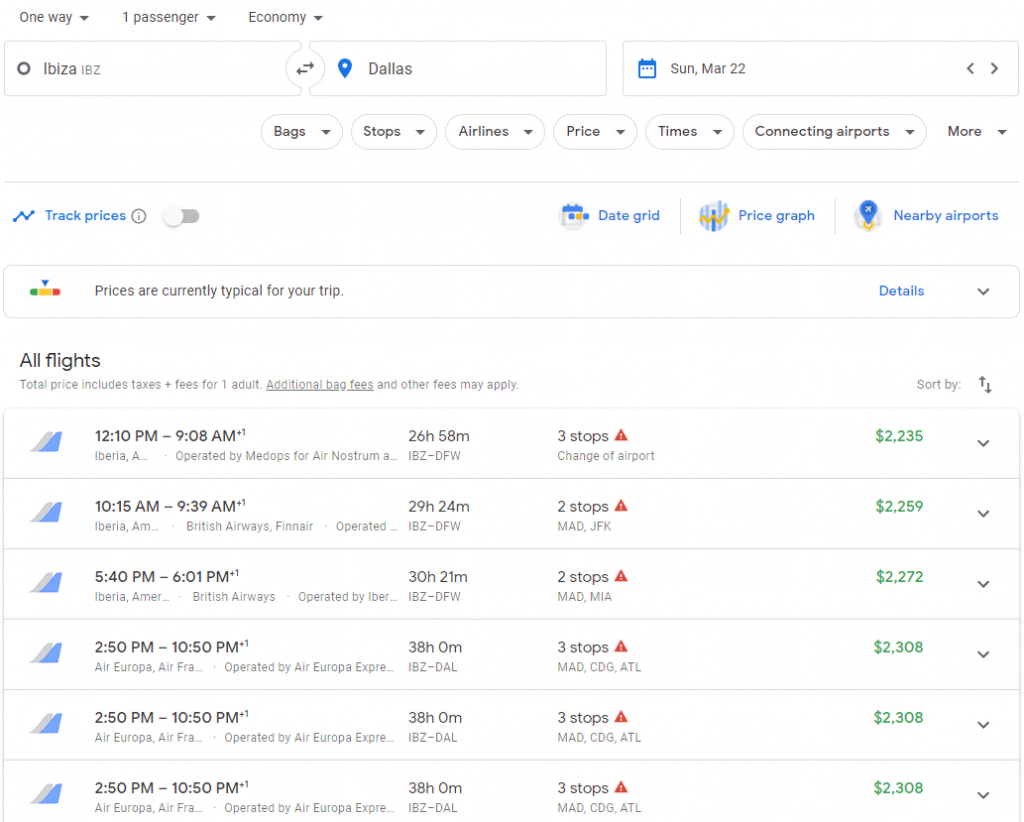 Over $2,000!?!?  I would never pay that much for a flight, especially not one with 3 stops.  
Ok but wait, let's see what it would cost me for a roundtrip ticket on the same date using the Date Grid: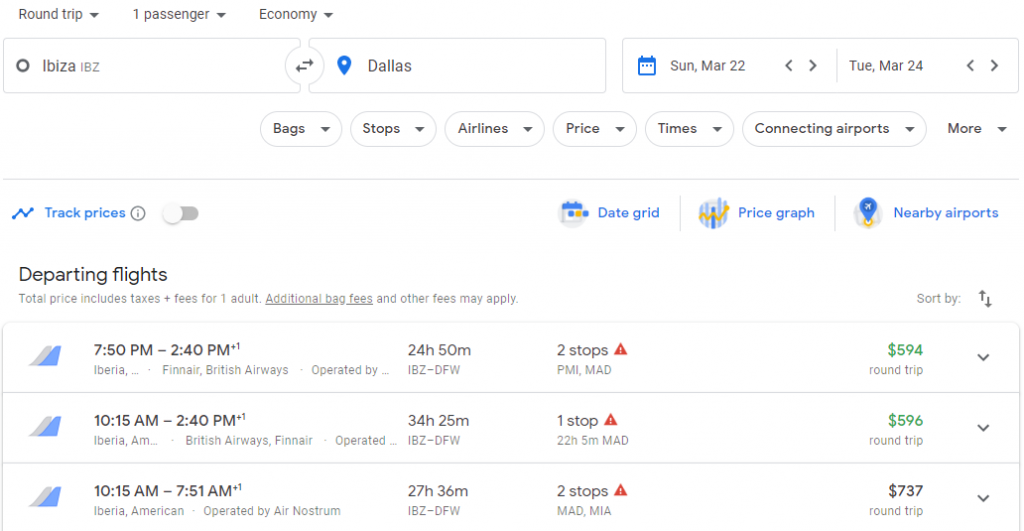 I know, I'm as astonished as you are.  Only $594!  Compared to a one-way ticket for $2,235 at the cheapest, that's a whopping $1,641 in savings!!!  Definitely buying the roundtrip ticket here. 
Crazy, isn't it?  A roundtrip ticket being cheaper than a one-way ticket?  Airlines really do have a non-sensical pricing strategy.
So while finding cheaper round-trip tickets for one-way trips is possible as I've just demonstrated, it won't always be the case.  
That being said, you should always still take a peek for them when looking for flights to see if it is because you could save quite a bit of money!  I've noticed it happens more often when you're flying to or from a more remote location or a destination that has a smaller airport with less connections.
Notes on buying return tickets when only traveling one-way:
While not illegal, this method of flight ticket buying is frowned upon by the airlines.  Therefore, there is a small chance that the airline will punish you for taking advantage of their ridiculous pricing strategies, usually by banning you from flying with their airline. 
To make sure you don't get banned, I would suggest not collecting miles/points on the trip or registering it with the airline's loyalty account when purchasing the flight.  This way it is tougher for them to track you. 
Also, make sure you only do this with the intention of taking the outbound flight and not the return flight because if you book a return trip only intending to take the return flight, the moment you miss your outbound flight, the airline will cancel the rest of your trip.  They do this to try to prevent you from taking advantage of this strategy, but as long as you plan to take the outbound flight, you will be able to use it no problem.
And although there is a risk of getting banned, you probably won't have it happen to you unless you buy return tickets for one-way trips with the same airline all the time and you collect points on the flights as well.  Therefore, I would advise using this method in moderation.

And that's all there is to it!  
This is a good trick, but there is yet another one you can use that is even crazier and it's called Hidden-City Ticketing.  Find out more about it in Part 3!