South Korea is an East Asian country known for its rich history, culture, cuisine, and scenery. From its metropolitan and historic cities to its many scenic mountains, islands, and rice paddies, South Korea has a lot to offer travelers that make the trip.
Most people start their visit in Seoul, the country's capital and largest city. Seoul is a world-class city that offers many different things to see and do for tourists. However, there are also many other cities worth visiting such as Gyeongju, Busan, Jeju City, Jeonju, Geoje, Jinhae, Andong, and Suwon, to name a few.
South Korea is also home to spectacular landscapes like the many mountains in Seoraksan National Park and Pyeongchang, the picturesque islands of Dadohaehaesang National Park and Jeju, and the scenic rice fields of Boseong. In addition, if you find South Korea's history with North Korea interesting, a visit to the DMZ is a must!
South Korean cuisine is delicious, highlighted by Korean BBQ where you cook your own food by yourself at your table using a mini BBQ! The locals are also very friendly and love meeting foreigners, making the country very easy to visit and tourist-friendly.
South Korea is an amazing destination and is definitely worth a visit!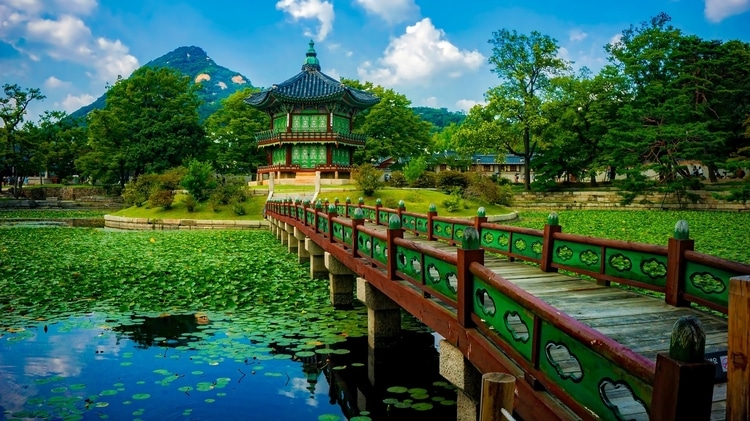 Largest Airports:
1. Seoul (ICN) – Incheon
2. Jeju (CJU)
3. Seoul (GMP) – Gimpo
4. Busan (PUS) – Gimhae
5. Daegu (TAE)
South Korea has a temperate climate that is split into 4 different seasons.  The winter is cold, especially the higher north you go.  Spring is when cherry flowers are blossoming and temperatures are pleasant.  Summer brings hot temperatures and lots of rain whereas the weather in autumn is similar to spring.
Therefore, the best time to visit South Korea is spring (March – May) for the cherry blossom season and autumn (September – November) for colorful leaves, lower prices, and smaller crowds.  The winter is chilly, but also prime-time for skiing if you want to hit the slopes.
If you plan to travel between June and August, be aware that the summer is typhoon season meaning you should expect high temperatures and lots of rain.  And if traveling during the high season, make sure to reserve your accommodation and flights in advance to avoid running into sold-out tickets and fully-booked rooms.
High Season: June – September
Low Season: November – April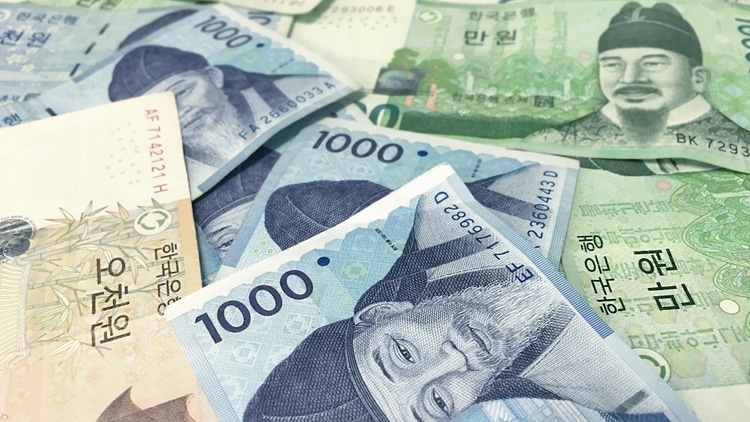 The currency used in South Korea is the Korean Won (KRW/₩).  The notes come in denominations of ₩1000, ₩5000, ₩10,000, & ₩50,000.  
The coins come in denominations of ₩10, ₩50, ₩100, & ₩500.
Use the currency converter below to determine the latest exchange rate.
Tipping is not customary in South Korea as most locals consider it to be rude and some might even take offense to being offered tips.  If you do try to tip, many will refuse it and even hand the money back to you so as a general rule of thumb, do not tip in South Korea.
One exception to this rule is tour guides, to whom you can give tips if they provided good service.  There is no specific amount you should give them so what you do give them is up to you.  
For comparison, a normal tip for tour guides in other parts of the world is 10% of the tour price for single-day tours and the equivalent of about ₩10,000 per day for multi-day tours.
In the rare instances that you do tip, you should do so discreetly.  The best way is to put it in a small envelope before handing it over.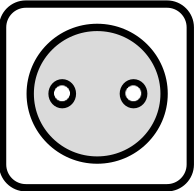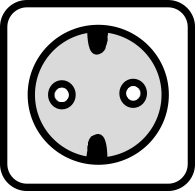 Similar to most of Europe, South Korea mainly uses the Type C power outlet.  However, they also use the Type F outlet.  
Type C & E plugs can fit in a Type F outlet as long as they are compatible.  Make sure your Type C adapter is oval-shaped or you have a Type E/F adapter.
Get your compatible Type C & Type E/F adapter here.
The voltage used in South Korea is 220V.  Learn more about how this may affect your electronic devices in my Guide to the Top Travel Accessories.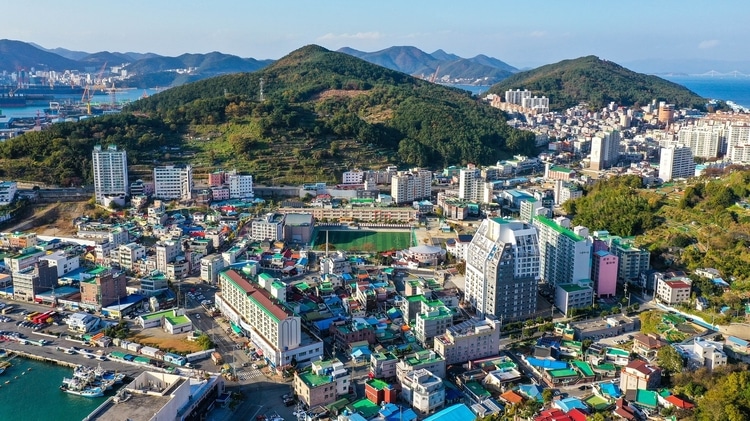 South Korea the best 4G LTE coverage in the world so it is very unlikely that you will ever need to use their 3G networks, but it doesn't hurt to be safe anyways.  Make sure your phone is GSM-compatible with the 3G frequency and at least one of the primary 4G LTE bands used in the country to ensure you will always have connection.
Learn more about this in my Guide to Travel-Ready Phones.
Information about local prepaid SIM cards in South Korea

Calling Code: +82
Emergency Numbers: 112 (Police), 119 (Ambulance & Fire)
3G Frequency Used: 2100
4G LTE Bands Used: 1, 3, & 5 (primary) + 7 & 8