The Philippines is made up of an archipelago of over 7000 tropical islands, each of which is blessed with fantastic white beaches, crystal-clear waters, endless palm trees, friendly English-speaking locals, and amazing scenery. Millions of people visit every year to experience it all for themselves.
Due to the sheer amount of amazing and beautiful islands that the country is home to, you're pretty much guaranteed a great time no matter which one you visit. However, some are more popular than others, including Boracay, Cebu, Palawan, Coron, Samal, Apo, Siargao, and Siquijor.
Because of all these great beaches, the Philippines is one of the best places in the world for water activities such as snorkeling, diving, and surfing. However, the Philippines isn't all beaches! It is also home to charming cities like Vigan, Baguio, Legazpi, and the historical old town of Manila.
In addition, there is lots of natural beauty to be found in the country such as the rice fields of Banaue, the villages of Sagada, the Chocolate Hills of Bohol, Lake Sebu, the waterfalls of Iligan, and Taal Volcano, to name a few. The scenery here is simply remarkable and it comes as no surprise that it's such a popular destination.
No matter what you're looking for, you'll find it in the Philippines!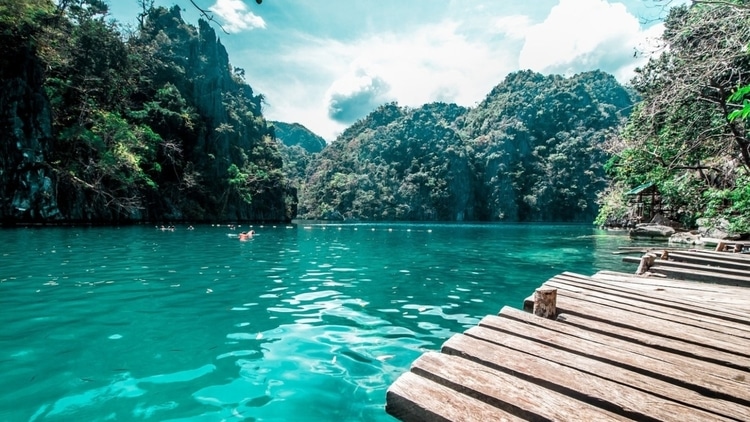 This page may contain affiliate links which means I get a small commission, at no extra cost to you, if you make a purchase with them. This helps keep the site running and the travel tips coming! For more info, check out my Privacy Policy & Disclosure.
Largest Airports:
1. Manila (MNL) – Ninoy Aquino
2. Cebu (CEB) – Mactan
3. Davao (DVO) – Francisco Bangoy
4. Angeles (CRK) – Clark
5. Iloilo (ILO)
Most of the Philippines benefits from a tropical climate which means year-round warm weather.  
There are really only two seasons in the country: the dry season in the winter which is when temperatures are warm and the skies are clear, and the wet season in the summer which has higher temperatures and lots of rainfall.  This is also when typhoons are most likely to occur.
Therefore, the best time to visit the Philippines is during its dry season before temperatures get too hot (December – February).  Keep in mind that this is also the most popular time to visit so if you want to avoid the crowds, try going in May or November.
If visiting Northern Luzon or other high-altitude locations, then it is recommended to go between March-May as it can sometimes get chilly up there in the winter, especially at night.
If you are traveling during the high season, make sure to book your transportation and accommodation in advance to avoid sold-out tickets and fully-booked rooms.
High Season: December – April
Low Season: June – September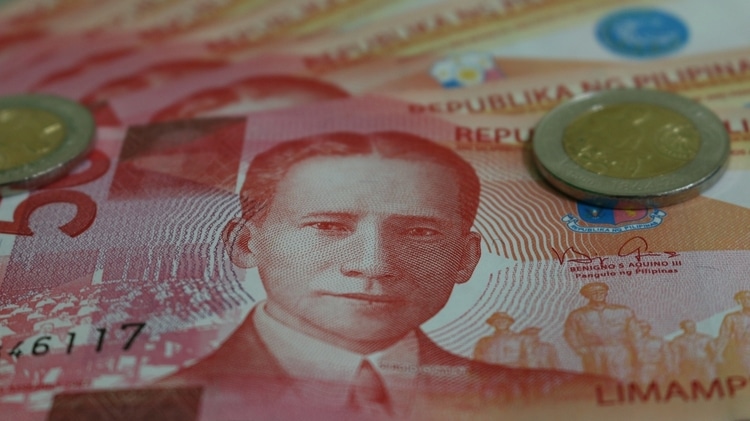 The currency used in the Philippines is the Philippine Peso (PHP/₱) – "Piso" in Filipino.  The notes come in denominations of ₱20, ₱50, ₱100, ₱500, & ₱1000.  
The coins come in denominations of ₱1, ₱5, & ₱10.  The Peso is also further divided into 100 Centavos – "Sentimos" in Filipino – but those coins are rarely used due to their low value.
Use the currency converter below to determine the latest exchange rate.
Tipping is not customary in the Philippines, but if you wish to tip for good service, here are some guidelines to follow:
Hotel Bellhops: ₱20-50 per bag
Hotel Housekeepers: ₱20-50 per day
Restaurant Servers: check to see if a service charge is already included on the bill and if it isn't, then tip 10% of the total bill
Spas & Massage Parlors: ₱20-50 for every 30 minutes
Bartenders: round up to the nearest multiple of 50
Taxi/Uber Driver: round up to the nearest multiple of 50
Tour Guide: up to 10% of the total tour price on single-day tours and at least ₱200 per day on multi-day tours
Note: any tips should be left in cash and given directly to the person you want it to go to.
The Philippines uses 3 different outlet types.  Similar to most of the Americas, they use the Type A and Type B outlets, but they also use the Type C outlet which is useful for European travelers.  Type A plugs can fit in Type B outlets, but not vice versa.
It is not guaranteed that you will find an outlet of each type in every building in the country so it is recommended to travel with a compatible adapter for each one just in case.
Get your compatible Type A/B adapter here.
Get your compatible Type C adapter here.
The voltage used in the Philippines is 220V.  Learn more about how this may affect your electronic devices in my Guide to the Top Travel Accessories.
The Philippines has average overall 4G LTE coverage and it may be spotty in rural areas.  Make sure your phone is GSM-compatible with the primary 3G frequency and at least one of the primary 4G LTE bands used in the country to ensure you will always have connection. 
Learn more about this in my Guide to Travel-Ready Phones.
Information about local prepaid SIM cards in the Philippines

Calling Code: +63
Emergency Number: 911 (Police, Ambulance, & Fire)
3G Frequencies Used: 2100 (primary) + 900 & 850
4G LTE Bands Used: 3 & 28 (primary) + 1, 5, 7, & 40