Vietnam is a popular country for travelers in Southeast Asia thanks to its spectacular scenery, amazing cuisine, and charming cities.  Many people choose to take full advantage of their visa limits and explore the whole country from north to south, or vice versa.  Traversing the country this way is often done by motorbike as well.
The south is home to Ho Chi Minh City, formerly named Saigon, which is the economic capital of the country and full of things to see and do.  It's also where you'll find the beautiful island of Phu Quoc, the sand dunes of Mui Ne, the European-inspired city of Dalat, and the resort city of Nha Trang.
Central Vietnam is where you'll find the charming city of Hoi An, the spectacular city of Da Nang, the popular instagrammable Golden Hands bridge, the picturesque Hai Van pass, the historic city of Hue, and the massive caves of Phong Nha.
Up north, you have some of the most famous scenery in Vietnam in Ha Long Bay and its on-land counterpart in Ninh Binh.  It's also where the capital, Hanoi, is located which is full of rich Vietnamese culture, as well as Sapa, where Vietnam's stunning rice fields are cultivated.
With so much to see and do, it's no wonder Vietnam is so popular!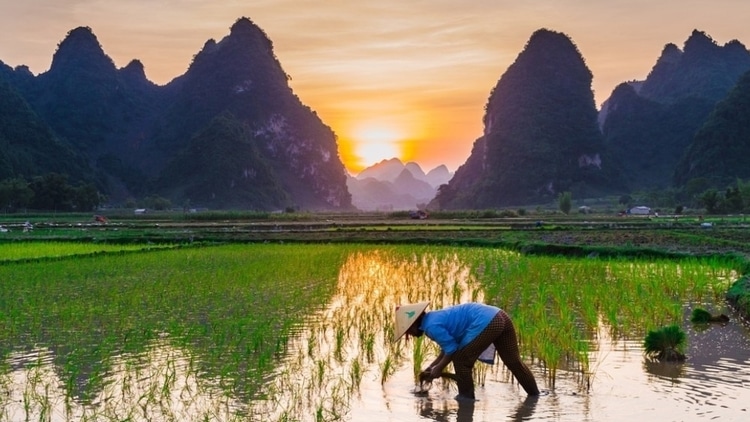 This page may contain affiliate links which means I get a small commission, at no extra cost to you, if you make a purchase with them. This helps keep the site running and the travel tips coming! For more info, check out my Privacy Policy & Disclosure.
Largest Airports:
1. Ho Chi Minh City (SGN) – Tân Sơn Nhất
2. Hanoi (HAN) – Nội Bài
3. Da Nang (DAD)
4. Nha Trang (CXR) – Cam Ranh
5. Phu Quoc (PQC)
Vietnam has three different climates: a tropical one in the south, a subtropical one in the center, and a temperate one in the north. The southern tropical climate is characterized by hot weather year-round with a dry season in the winter and a monsoon season that has heavy rainfall in the summer.
Central Vietnam, on the other hand, has dry summers and cool winters, experiencing its rainfall in the fall and winter with its monsoon season occurring in October and November. However, Northern Vietnam and the mountainous areas of the country experience cold, dry winters and hot, rainy summers.
Therefore, the best time to visit Vietnam is during the springtime (March – May) when temperatures are pleasant and the skies are clear throughout the country. This is also one of the country's low seasons meaning you also get to benefit from lower prices and less crowds.
Most people visit in the summers, when temperatures are highest throughout the country, as well as winters, when most of the country has clear skies. If you are traveling during the high seasons, try to book your transportation and accommodation in advance to avoid sold-out tickets and fully-booked rooms.
High Seasons: December – March & July – August
Low Seasons: April – June & September – November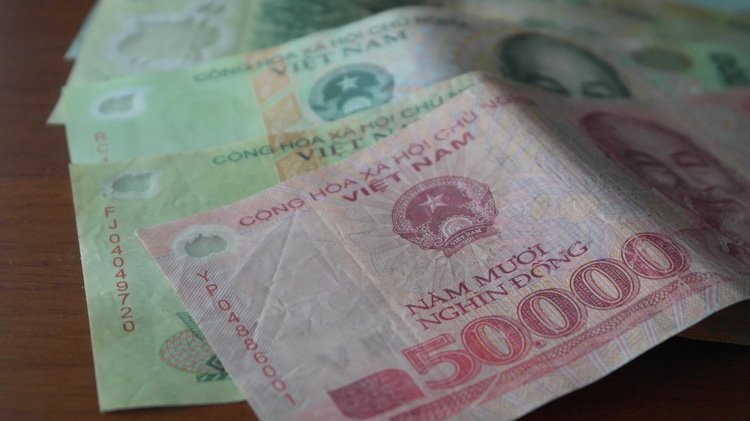 The currency used in Vietnam is the Vietnamese Dong (VND/đ).
The notes come in denominations of 1000đ, 2000đ, 5000đ, 10,000đ, 20,000đ, 50,000đ, 100,000đ, 200,000đ, & 500,000đ.  There are no coins in use in Vietnam.
Use the currency converter below to determine the latest exchange rate.
Tipping is not customary in Vietnam, but it is appreciated.  If you wish to tip, here are some guidelines to follow:
Hotel Bellhops: 10,000-20,000đ per bag
Hotel Housekeepers: 10,000-20,000đ per day
Restaurant Servers: not expected except in upscale restaurants where you'll already find a service charge on the bill
Spas & Massage Parlors: 20,000-50,000đ per 30 minutes
Bartenders: 10,000-20,000đ per drink
Taxi/Uber Driver: round up to the nearest multiple of 10,000
Tour Guide: up to 10% of the total tour price on single-day tours and 100,000-200,000đ per day on multi-day tours
Note: any tips should be left in cash and given directly to the person you want it to go to.
Vietnam uses 3 different outlet types. Similar to most of the Americas, they use the Type A outlet, but they also use the Type C and F outlets which is useful for European travelers. Type C plugs can fit in Type F outlets as long as they are compatible.
It is not guaranteed that you will find an outlet of each type in every building in the country so it is recommended to travel with a compatible adapter for each one just in case.
Get your compatible Type A adapter here.
Get your compatible Type C adapter here.
The voltage used in Vietnam is 220V. Learn more about how this may affect your electronic devices in my Guide to the Top Travel Accessories.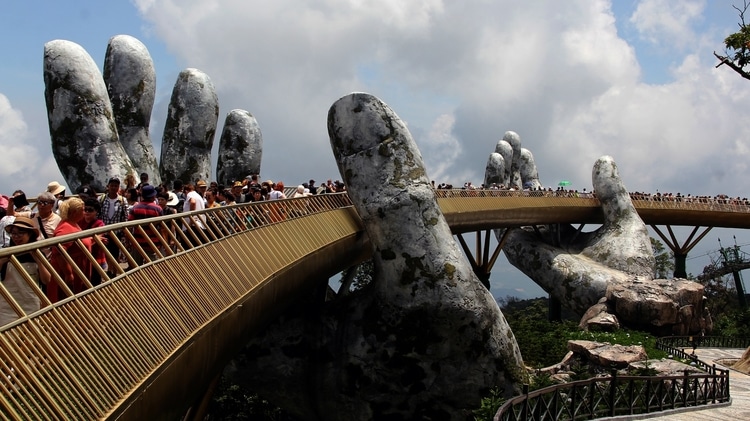 Vietnam has good overall 4G LTE coverage, but it may be spotty in rural areas.  Make sure your phone is GSM-compatible with the 3G frequency and the primary 4G LTE band used in the country to ensure you will always have a connection. 
Learn more about this in my Guide to Travel-Ready Phones.
Information about local prepaid SIM cards in Vietnam

Calling Code: +84
Emergency Number: 113 (Police), 115 (Ambulance), 114 (Fire)
3G Frequency Used: 2100
4G LTE Bands Used: 3 (primary) + 7