Hitchhiking can be a somewhat controversial topic for travelers.  Some people swear by it and do it all the time whereas others would never even consider it.  This is because it can sometimes be risky if you don't know how to stay safe while doing it (which is why I wrote a Guide to Hitchhiking that outlines everything you need to know if you plan to hitchhike).
However, it's something that almost every serial solo traveler is bound to do at some point or another during their travels, whether by intention or simply spontaneous decision.  I've personally only hitchhiked a total of 5 times in my life so far, which I don't think my mom is aware of by the way (but I guess now she will be, sorry mom!), and almost every time I did, it was typically out of necessity and not desire.
This is because I'm not a person that will go out of their way to look for opportunities to hitchhike.  In fact, I actually much prefer the comforts of buses, trains, and even ridesharing over hitchhiking.  This is not because I'm afraid of the risks involved with it, but rather simply because I don't like the uncertainty of it.
I like to make sure everything runs smoothly when I travel and a big part of that is ensuring that I arrive at my next destination at the time that I plan to arrive.  Hitchhiking is one of the few methods of transportation that you cannot rely on if you want to make it somewhere by a certain time so as a result, I usually only hitchhike as a last resort.
That's why it took me over 20 countries in my travel career to hitchhike for the first time:
1st Hitchhiking Experience: Romania (August 2016)
The very first time I hitchhiked, I was traveling solo through Romania, visiting the historic region of Transylvania after experiencing the Untold festival in Cluj-Napoca for the first time.
If you don't know, Untold is an EDM festival that hosts some of the world's biggest international DJs every summer and is comparable to Tomorrowland, but at less than half the price.  I highly recommend it if you're into electronic music!
After the festival, I first went to the very pretty city of Sibiu and my next stop was Brasov (my absolute favourite city in Romania), but I wanted to get there via Sighisoara, which is another picturesque town in the region.  The plan was to leave Sibiu early, spend a few hours exploring Sighisoara, and then catch a bus or train from there to Brasov.
Getting to Sighisoara was an adventure in and of itself since the train connection wasn't ideal (the rail network in Romania isn't one of the best in the world, to say the least).
It involved taking a slow train that had no doors on its cars (meaning you could stick your head out or hang from the train while it was moving if you wanted to), then a local bus since the tracks were being repaired for a section of the route, and finally another slow train the rest of the way to the town.
Once I finally arrived, I found a local hostel and asked if I could leave my bag with them as I explored the town, which they agreed to (hint: this is a good way to store your luggage on daytrips during your travels and can also sometimes be done with local bars and cafes!)
The town is a delight and well-worth a visit, but because I'm an efficient traveler, it only took me a few hours to see all that it had to offer.  But when it came time to make my way to Brasov, I checked the bus and train schedule and that's when I realized that I probably should have planned my trip better because there wasn't another bus or train heading that way for another 5 hours!
Since I had already explored the town and the only other option was to sit around and wait for 5 hours, I decided that this was as good a time as any to attempt hitchhiking for the first time.
So I grabbed my stuff from the hostel, made my way to the main street heading in the direction of Brasov, and stuck my thumb out.  I don't remember if I had a sign or not and I wasn't the only one trying to get picked up (it's not uncommon there for locals to hitchhike and get rides to their villages), but it only took about 30 minutes or so for a massive semi-truck to pull over in front of me and motion for me to hop on.
Once I got in, an older woman who was also trying to catch a ride asked if she could hop on as well, but the driver told her that there wasn't enough room for her.  I could tell he wasn't very interested in letting her join us and that if I wasn't on the side of the road trying to get a ride, he probably wouldn't have stopped to pick anyone up.  I was probably an unusual and interesting sight for him which is why he stopped!
It was my first time ever in a semi-truck which was pretty cool.  I told him where I was headed and we set off for Brasov, an hour and a half away.  We got to know each other a little bit, but I tried to limit how much I told him about myself since I wasn't sure how he would react to the fact that I grew up in Canada, even though I'm also Romanian.
As we approached Brasov, he told me he wasn't allowed to enter the city with his semi-truck, but that he could drop me off at a bus stop outside Brasov where I could catch a bus into town.  When we got there, I thanked him for the ride and hopped out to catch that bus and continue my trip.
All in all, it was a pleasant experience and gave me the impression that hitchhiking was easy.  However, I learned not too long afterwards that the experience will vary every time:
2nd Hitchhiking Experience: Switzerland (October 2016)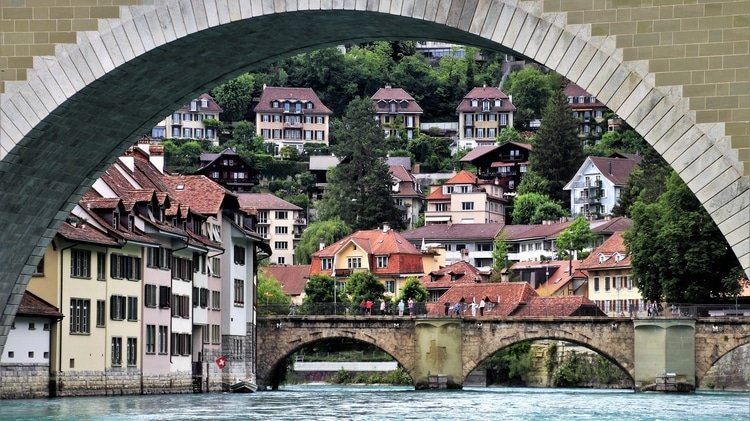 Only two months later, I was traveling through Switzerland on my way to meet up with my mom since she was in Europe on a business trip.  We had decided to meet up in Strasbourg as I had never been and it was relatively close to her office in Germany, making it easy for her to get there.
I had already moved to Seville by that point and since I am a budget traveler, I came up with a way to get to Strasbourg while also visiting a bunch of new places, all without spending too much money.  The plan was to fly to Barcelona with Ryanair for 42€, spend the weekend there catching up with friends, then fly from there to Geneva with Vueling for 25€.
From Geneva, I would make my way towards Strasbourg while stopping in the Swiss cities of Lausanne, Bern, and Basel.  And since I was in Switzerland, I did everything I could to save money which included couchsurfing.  I was able to find hosts for my whole time in Switzerland and did not have to pay for accommodation at all which was great on my wallet!
Similar to what I had done in Romania two months prior, my plan was to leave Geneva early and spend a few hours visiting Lausanne before making my way to Bern in the afternoon.  I was able to find a cheap Blablacar to get me to Lausanne in the morning and I spent several hours admiring that lovely student city.
It soon became apparent to me however, that I was not going to be able to get another Blablacar from Lausanne to Bern and that taking a train (because there are no bus services in Switzerland unfortunately) would have costed me more than what I had paid to fly to Switzerland in the first place!  That's when I decided that it was time to try hitchhiking again.
I created a sign and took a local tram to get to a street on the outskirts of the city that led to the highway that would take me to Bern and started looking for my ride.  It was the afternoon and people were heading home from work so most of them just drove by me.  It took about 30 minutes or so for a car to finally pull over.
The woman in the car told me in French that she was headed to a small town on the way and since any ride that gets me closer to my destination is a good one, I accepted her offer.  Since I speak French (thank you Canadian education system!), I was able to easily communicate with her.  It turned out she lived in that small town and was heading home from her job in Lausanne.
The ride only lasted about 20 or so minutes because that's as far as she was going.  It got me about ¼ of the way to Bern and she dropped me off at a gas station along the highway (which is a great place to get dropped off at if you're hitchhiking by the way since it's much easier to catch another ride by being able to talk to drivers directly).
I thanked her for the ride and started asking some of the other drivers that were already there if they were headed to Bern and if they could give me a ride.  It took a little while, but eventually I was able to find someone who, just like the first woman, was able to take me part of the way there.  She too was heading home from work, but she lived in a small town even further away from Lausanne than the first woman did.
Although I had hoped to find someone who could take me all the way to Bern, I was content with once again, any ride that would get me closer to my destination.  I hopped in her car and off we went!
This was another short ride, again only about 20 minutes or so, and she too dropped me off at another gas station along the highway so that I could find another ride.  At this point, I was wondering how many more rides I would need to take to get to Bern, which is only just over an hour's drive away from Lausanne in the first place!
Instead of asking around this time, I opted to hold out my sign that said Bern on it as people were pulling into the gas station and hope that someone who was going all the way there would stop and pick me up.  After 15 minutes or so, this strategy worked and a guy told me he was headed to Zurich, but that he could drop me off at a tram station next to a shopping centre on the outskirts of Bern.
I happily accepted his offer and I was finally on my way to Bern!  It turned out he lived in Zurich, but he went by train to Geneva to pick up a car that he had just purchased and was now driving it himself back home to Zurich.  I felt quite honoured to take part in its maiden voyage since it was also a brand new BMW which is quite a nice ride to get when hitchhiking!
As promised, he dropped me off at that shopping centre and I was able to take a tram to get into the city.  It was great timing too because the sun was starting to set and trying to hitchhike when it's dark outside is much harder (and more dangerous) than doing it in the daytime so although it took longer than I expected, I still managed to make it without spending a bunch of money on a train ticket.
3rd Hitchhiking Experience: Romania (August 2018)
My 3rd hitchhiking experience didn't come until two years later and although it happened in Romania again, the circumstances were slightly different this time.  Once again, it was during the period of the Untold festival, but this time, I was heading to the festival, not leaving it.
I was living in Munich at the time and when I was looking for flights to Cluj-Napoca, where the festival is held, the prices were quite high.  When I expanded my search to nearby airports however, I discovered that there were cheap flights to the nearby city of Sibiu so I decided to go for those.
To get from Sibiu to Cluj, I knew that there would be lots of Blablacars available since there would be many people from all over Romania going to the festival.  A few days before my flight to Sibiu, I managed to find and book a spot in one.  Everything was going according to plan up until the moment I landed in Sibiu.
Since I didn't have an internet connection while in the air, I only got the news that my driver was delayed by several hours once I landed.  Since the ride wasn't prepaid (Blablacar in Romania is done via cash paid directly to drivers), it didn't take long for me to decide to try hitchhiking instead because I didn't feel like waiting around in the airport for several hours.
My first strategy was to start asking people in the airport if they were going to Cluj by any chance.  I targeted people who were around my age or who looked like they might be heading to the festival and asked around, but nobody was going there unfortunately.  I then realized that I would have to do it the standard way.
I created a sign that said Cluj on it and walked out of the airport to the main road to try to see if I could catch someone driving by who was going there.  However, since the airport in Sibiu is not located anywhere near the highway that goes towards Cluj, I didn't have much luck.  I tried, but after 30 minutes, I realized I would need to relocate to a more strategic location.
I used Google Maps to find an on-ramp to the highway that goes towards Cluj and asked a taxi driver at the airport to take me there.  Taxis in Romania are super cheap (apart from the capital where they will rip you off) so I didn't mind paying for it.  He seemed a bit confused by what I was doing, but a fare's a fare and he took me to that on-ramp.
Once I was there, I held my sign out hoping for someone to pull over and pick me up and it took about 15 minutes, but eventually someone pulled over and offered to take me halfway!  I accepted his offer and off we went!  I don't remember much about our interaction, but he said he would drop me off at a spot in the town where I would be able to get another ride easily so I was sold.
When I got dropped off halfway, I was once again surrounded by locals looking for rides to their villages so I stood several metres away from them in an effort to stand out to potential drivers and it worked because not too long after, an off-duty taxi driver stopped and picked me up.  He took me all the way to Cluj and even dropped me off in front of my Airbnb which was super sweet!  
All in all, I'm happy I did it because the alternative would have been waiting for hours bored out of my mind in the airport and arriving much later in Cluj, after the festival had already started.  It took a little effort, but I made it all work out in the end!
4th Hitchhiking Experience: Malaysia (January 2019)
So this one is a little different from all the others on this list because it was completely unplanned.  I know all of my hitchhiking experiences were unplanned, but this one was unplanned to the point where I wasn't even thinking about it and it just randomly happened.
Let me explain.
So this was at the beginning of my trip through Southeast Asia with my girlfriend at the time.  We had started in Singapore and made our way up through Malaysia to Kuala Lumpur.  On our second or third day of being there, I noticed that my bank account had been compromised and I was down a couple thousand Euros, so I freaked out, rightfully so.
I'm sure I will write about the whole story in another post, but to keep things short, I needed to get a police report filled out to be able to get my money returned to me by my bank account.  I initially did this at the nearest police station in Kuala Lumpur, but they told me that the case would simply be forwarded on to the police station in charge of the jurisdiction where the crime of using a forged card to fraudulently take out cash from my bank account was done.
Since I really wanted to get justice for this, and because I wasn't content with just sitting around waiting for my bank to get back to me, I decided to take matters into my own hands and go to that police station myself to provide more important information about the situation so they had everything they needed to find the perpetrator.
Since the ATM that was used to take cash out of my account was located on the outskirts of Kuala Lumpur, we took a Grab to get to the local police station there.  I used Google Maps to find it, but upon arrival, we realized that while there may have been a police station there before, it had definitely been abandoned for a while.
Realizing that there was nothing else for us there, we started to think about going back to our hostel.  However, we hadn't even thought about how we were going to do that when a guy just pulled over in his car and asked if we needed a ride.  My girlfriend accepted on behalf of us because it took me a second to realize that we were in fact about to look for a ride anyways so we hopped in and he drove us to our hostel!
It was completely random and the way it happened was that the driver noticed us wandering around somewhat aimlessly and made eye contact with my girlfriend who seemed to indicate that we were looking to head back into town.  His car was a bit run-down, but he turned out to be one of the nicest people ever!  He gave me his phone number because he was offering to treat us to dinner that night at a local restaurant.
Never being one to turn down a unique cultural experience when it gets presented to me, of course I accepted his offer and we met up with him several hours later.  He took us to a restaurant nearby and started ordering so many different types of food.  It was a bit crazy seeing how much food he was getting because my girlfriend and I wouldn't usually get more than a basic amount to cover our needs since we were traveling on a budget.
But this guy's priority was to ensure we ate well and that we enjoyed ourselves.  It was truly an eye-opening experience being treated like this by someone who we could only assume had less money than we did since we were both from Western countries.  I'll never forget that dinner, nor the random ride we got from him earlier in that day.
That whole experience really helped me regain my faith in the local Malaysian people (who I still think to this day, are one of the nicest people in the world, if not the nicest).
5th Hitchhiking Experience: Thailand (March 2019)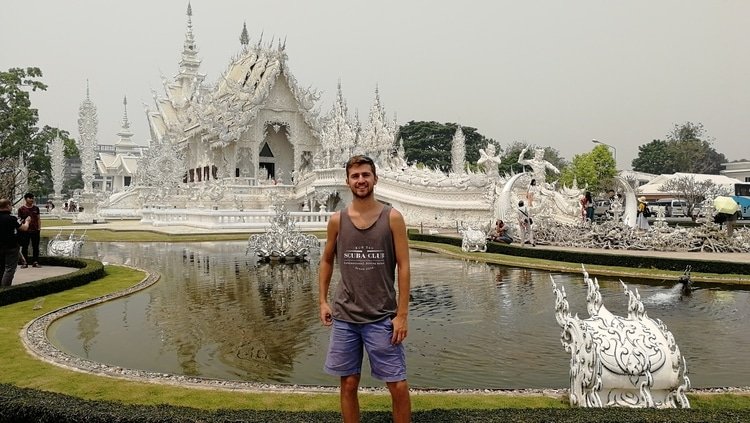 The fifth and final hitchhiking experience that I have had in my life (so far) happened on the same trip as the last one, except this time it was two months later in Thailand on the tail-end of 6 weeks visiting the whole country from bottom to top. We were in Chiang Mai and planning to go to Chiang Rai as our final stop in the country before making our way to Laos.
As usual, we were not planning to hitchhike. In fact, we were planning to catch a bus from the bus station to take us there. Well, it turned out that we weren't the only ones doing this. We were leaving on a weekend, but not just any weekend; it was a long weekend. This meant that all the locals had already bought all the tickets for all the buses for that day.
We didn't know this until we got in line at the bus station and asked for two tickets on the next bus, to which they responded that the next bus is tomorrow. We probably should have planned it better, but we were so used to booking tickets last minute and on the fly that we were not expecting this. Needless to say, we were not interested in waiting until the next day to get to Chiang Rai so we decided to explore other options.
Some opportunist locals were offering rides in a minivan for a much higher price than what the bus would have cost us so we made a decision then and there to try hitchhiking. My girlfriend didn't consider our previous experience to be real hitchhiking and she had always wanted to try it out for real so she was really excited about the idea.
After preparing a sign, we walked from the bus station to a spot on a busy road that was going in the direction of Chiang Rai and started holding our thumb out with the sign, hoping someone would stop and pick us up. Her excitement soon turned into frustration after realizing that getting picked up wasn't going to happen instantaneously.
We took turns holding the sign and sticking our thumb out for the better part of an hour and she was starting to get quite restless. She was ready to give up, however I was a bit more patient than her and I convinced her to give it a bit more time. Our plan B was to go back to the minivans and just cough up the money for them, but luckily we didn't need to do that as a couple minutes later, a Thai guy in an SUV pulled over and offered to take us to Chiang Rai!
He was really nice and told us he was driving there for work. We tried to offer to pay for his dinner on the way there (since it was getting late) as a way of thanking him, but he refused any sort of goodwill on our part. He even dropped us off in front of our accommodation in Chiang Rai so all in all, it was worth the long wait for a ride.
My girlfriend was then able to finally tick hitchhiking off her bucket list and I was able to continue my trend of positive hitchhiking experiences. I haven't hitchhiked since then, but I'm sure I will sometime again in the future. Plans always change so you always need to be prepared for it, both physically and mentally!
This was a bit of a long post and if you read all the way through, I'm glad you enjoyed it.  It was fun to think back to all these moments in my life and the circumstances that caused them.
If you've never hitchhiked before, I hope that with this post, I have helped clear up what the experience is like so that you have a better idea of what to expect if you ever do find yourself in a situation where you think you might do it.  Make sure to also read my Guide to Hitchhiking so you're fully prepared for it.
And if you have hitchhiked before, I'd love to hear about some of your own experiences in the comments below as well as your thoughts on my experiences and how you feel about hitchhiking in general!