So the 4th part of my Guide to Google Flights is a mix of teaching you a cool feature provided by Google Flights and a strategy you can use in your travels to get the cheapest flight deals possible.  
So without further ado, let's get into it!
When playing around with Google Flights, you may have noticed that there is a + sign next to the city names for both the departure and arrival cities that appears when you click on their respective fields.  If you hover over it with your mouse, it says "Select multiple airports":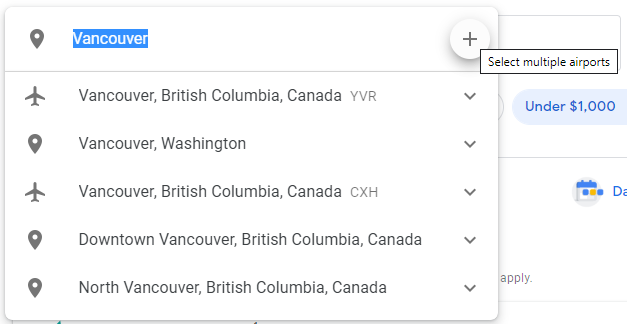 You're probably wondering what that's all about.  Well if you click the plus sign, the airplane and location icons to the left of those city names become unchecked boxes (with the exception of the box representing the city you already selected):
Furthermore, if you click the downwards arrow to the right of your city, a list of nearby airports will appear that you can choose from!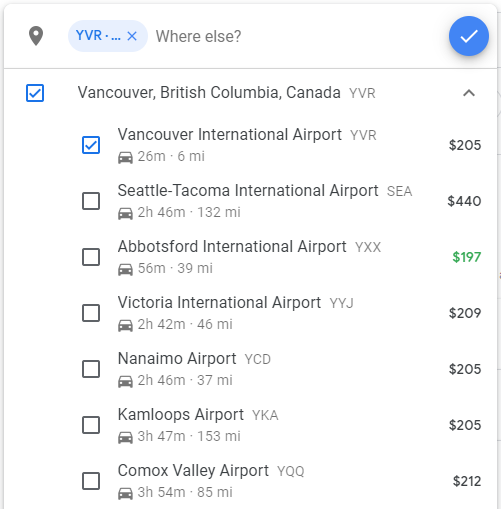 You're probably wondering what all of this is about.  Well, if you were to check another one of those boxes such as the one for Seattle, any and all flights from that airport would be included in your search results.  
"Why would I care about flights from Seattle if I live in Vancouver?", you ask…
Well this is where the travel strategy I talked about at the beginning of this page comes in.  Some cities are only serviced by one airport (Denver, for example).  Others are serviced by 2 or more (London with 6, for example).  But many places, although not technically being serviced by other airports, are within a reasonable distance from those airports.  Let me explain.
If we take a look above at the nearby airports to the Vancouver one, there are a few that are within driving, train, or bus distance such as the Abbotsford and Seattle airports.  What does this mean?  Well if you are able to drive to those airports or willing to take a bus or train to get to them, you might be able to take advantage of cheaper flights. 
Of course, you'd have to factor in the cost of travel to those airports, but sometimes you'll find that a flight from another nearby airport is much cheaper than one from the airport you usually fly from, even after you factor in those extra travel costs! 
And if you live in a city that doesn't have its own major airport or you live in the middle of several cities that do, then this feature is especially useful to see all the options available from all the airports nearest to you.
Let's see it in action. 
Let's say I live in Trenton, New Jersey and I want to travel to Belgium.  Trenton doesn't have its own major airport, but the closest airport to it is Philadelphia's and it's the one I'm used to traveling from anyways so I'm going to search for a one-way flight from Philadelphia to Brussels on Mar 6 using my usual search filters and see what I get: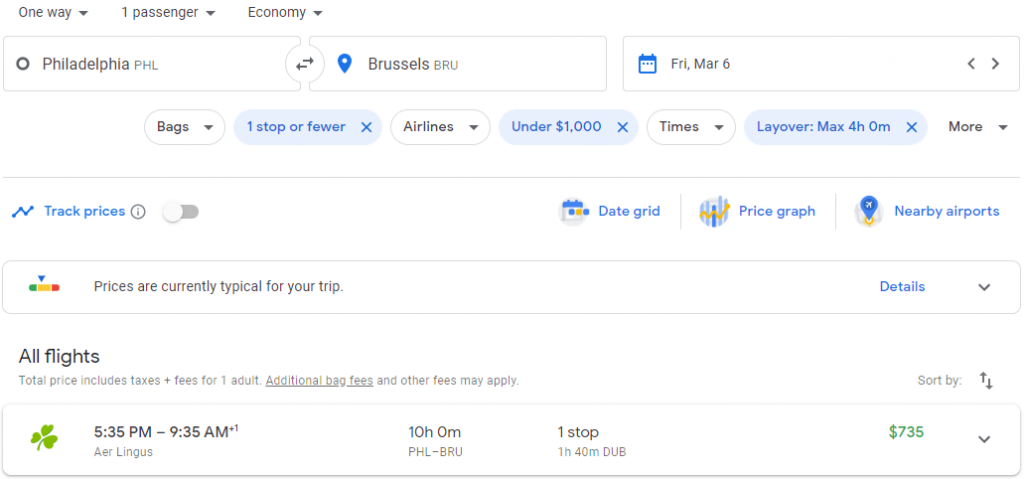 Only one flight available and it's also a little on the pricey side, I would say.  Assuming I can't fly on another date when the flight is cheaper, the other option I have is to consider flying from another nearby airport.  Let's go through the steps I outlined earlier to see what's available.  
Clicking on Philadelphia, then the plus sign, and then the arrow to show the nearby airports, this is what I get:
Note: you can also see options available from other airports by clicking on Nearby Airports under the search filters, but I would avoid using it because I find it often doesn't show you all the options available whereas the checkbox method does.
There's one airport that instantly stands out and that's JFK airport in New York which is only about 80 miles, or a 1.5 hour drive away from Trenton.  If this isn't too much of a distance for me, then I could save over $500 on this flight!  
But let's just check the flights from all of the nearby airports that have flights available because sometimes Google doesn't update the price previews when you add filters so we need to check the search results. 
Note: Google Flights also doesn't always show you all the closest airports available so sometimes you will have to input them manually.  To do this, after clicking the plus sign, just type in the 3-letter airport code for the airport you want to add to your search.  If you don't know the airport code for any specific airport, just google it and you'll find it!  Remember, you can only have 7 total airports each in both your departure and arrival airport fields.
In my case, there are only 5 nearby airports with available flights so I will check all of those and see all the flights that are available from them: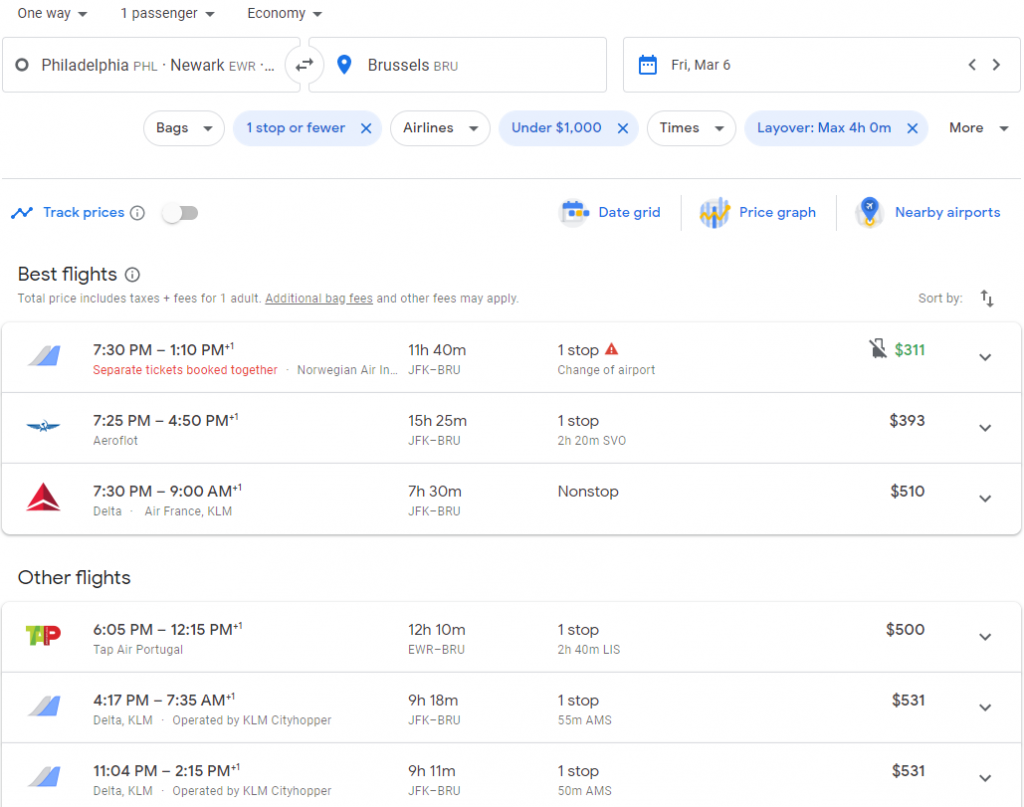 So Google Flights isn't perfect and sometimes shows phantom prices when playing with different airports so that $197 price we saw in the preview doesn't exist.  However, there is an option for $311 available with an airport change and separate tickets as well as a direct flight for $510 from JFK airport, over $200 cheaper than from Philly's airport.
Note: Booking separate tickets for an outbound journey can be a good way to save money, but can also be quite risky.  Learn more about what I call split-ticketing in Part 1 of my Guide to Cheap Flight Strategies.
But we're not done yet because we can also do the same thing with the arrival airport!  So let's see what's available if we add some nearby arrival airports: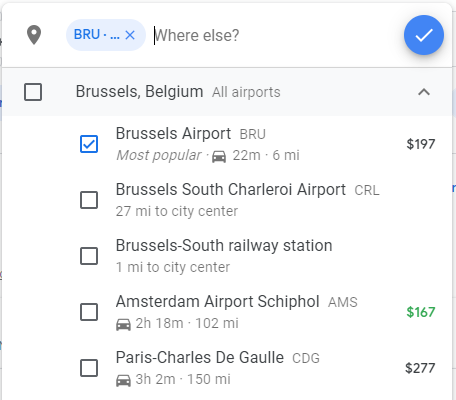 So far the preview looks promising.  Amsterdam seems to have a very cheap flight and Paris also has a decently priced one too!  Let's see the full details of the flights before we get too excited though:
Hint: you can also go back and check if there are any other nearby departure airports with flights available to add now that you have added other arrival airports to your search!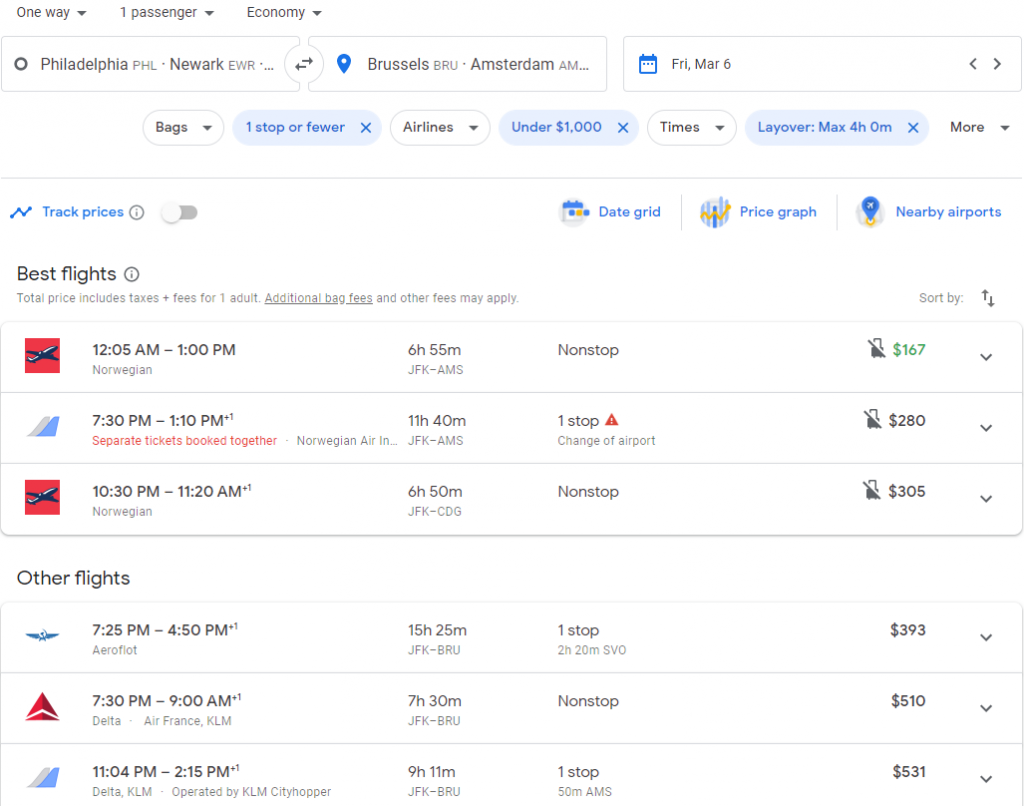 We got lucky this time!  Norwegian offers a direct flight for only $167 from JFK airport to Amsterdam which is only a 1.5 hour train ride away from Brussels.  Of course, we'd have to factor in the cost of the train ticket (or bus ticket if we really want to save money) as well as the cost of whatever transportation we choose to take to get to JFK from Trenton, but that's peanuts compared to what we're saving on this flight!
Some things to note about this itinerary:
1. Norwegian is a budget airline and doesn't offer free carry-on so that would cost extra.  Find out more about budget airlines in my Guide to Budget Airlines.
2. To learn how to find and book your train or bus tickets, check out my Guide to Train Travel and Guide to Bus Travel.
But that's basically it!
The Multiple Airlines feature is an awesome feature that I think deserves much more attention than it gets because it can provide you with many good options for getting to your destination for cheaper if you are flexible enough!  I always use this feature when I travel in Europe because there is always a cheaper way to get to where I want to go.
It's especially useful if you live between major airports and you often fly from different airports in your travels because it lets you see all the flights available on the same page instead of having to open multiple pages to see all your options. 
And if you're wary about adding all these extra steps to your itinerary, you can look at it from the perspective of giving you an excuse to spend some time in another destination too.  For example, even though you want to go to Belgium, you could also spend a few days in Amsterdam because why not?
By the way, if you liked the tricks I showed you in this guide about how you can fly for cheaper, you'd love my Guide to Cheap Flight Strategies!
But that's not all there is to Google Flights, there is still one more feature that you should know about!  Continue on to Part 5 to learn all about the Price Tracking feature.