Welcome to the Southwest Airlines Guide.  In Part 1, I'm going to talk about how to book Southwest flights using their website and booking system.
Southwest's website has some similarities to Google Flights, but also some major differences.  When looking for flights, the best strategy is to actually use Southwest in tandem with Google Flights (check out my Guide to Google Flights if you haven't already).
So before we search on Southwest, let's do a quick search on Google Flights for a one-way flight from Atlanta to Denver on March 10th: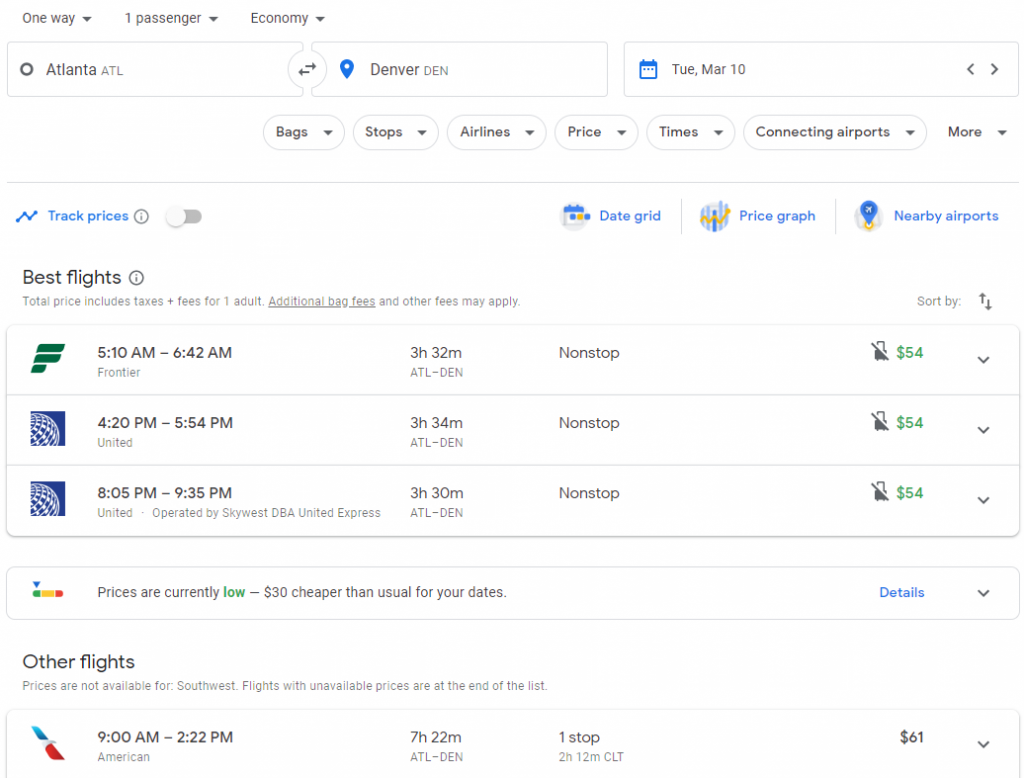 Some very cheap prices from Frontier and United here (not including the cost of carry-on).  
But wait, if we look closely under where it says "Other Flights", we see that it tells us that "Prices are not available for: Southwest. Flights with unavailable prices are at the end of the list."  Let's go to the end of the list to see what Southwest flights there are:

As you can see, Google Flights does show Southwest flights in its search results, but they don't give much information for them.  We'll have to go to Southwest's website to see more information.  
When you go to find flights on Southwest.com, this is what you see: 
You have to input your departure airport, destination airport, the dates, number of passengers, etc. just like you did in the Google Flights search to find the flights we saw there.  Let's do that and see what we get: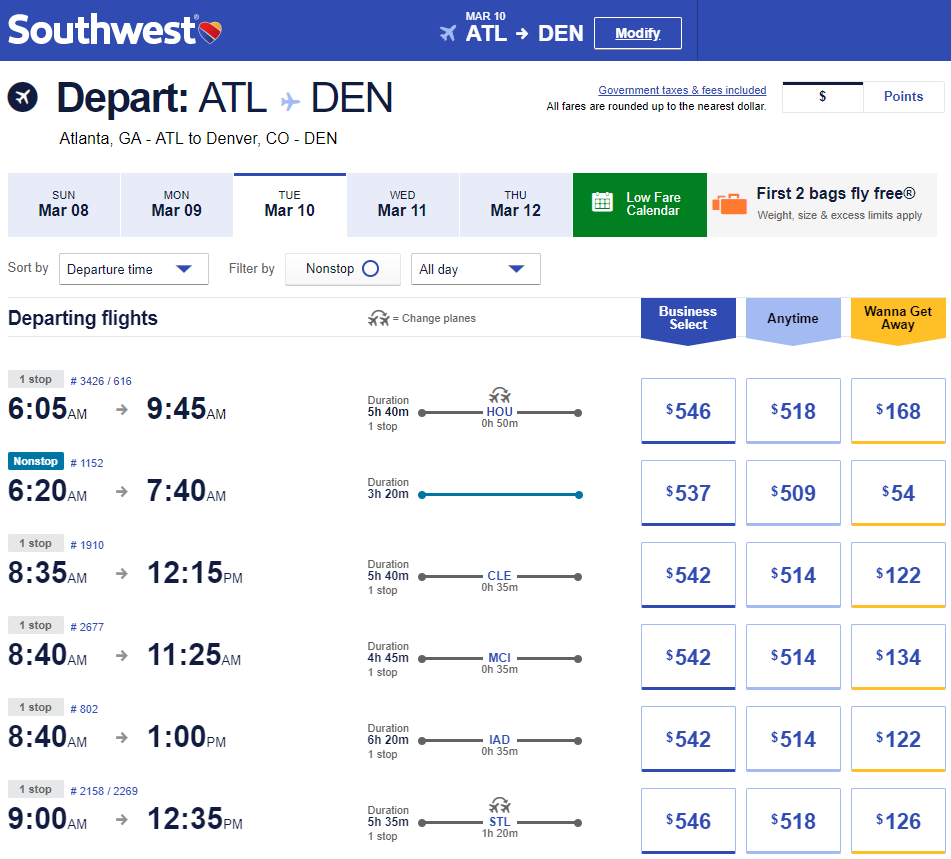 A whole bunch of connecting flights and the same nonstop flights that Google Flights found (this screenshot only shows a third of the flights offered by Southwest, the rest are further down the page), all automatically sorted by Departure Time. 
If there are two little airplanes with an arrow going from one to the other above the connecting airport (like the 1st flight on the list), it means you have to change planes during your layover, but if that icon isn't there (like the 3rd flight on the list), it means you just stay on the plane as it will continue on to your next destination (kinda like a train). 
Google Flights won't show you the connecting flights that Southwest offers so to see those, you will always have to check their website.  In general, if you're okay with flights that might have a short layover, it's good practice to always check Southwest for flights even if you don't see them on Google Flights because there might be a cheap connecting flight offered by Southwest that's better than the ones you find on Google Flights.
I can also sort the results by Arrival Time, Price, Duration, and Stops if I want as well as filter them by Departure Time and Nonstop Flights.  The first nonstop flight already looks like a good one, but let's sort by Price and see what else we get: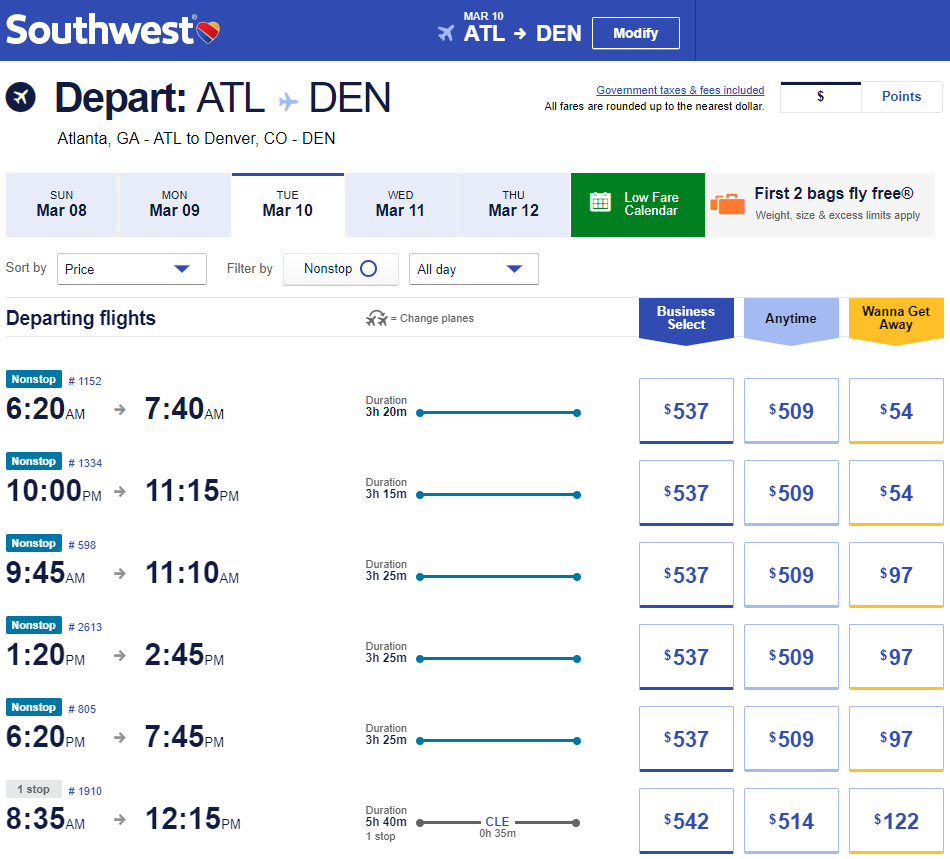 Another nonstop flight for $54 leaving at 10:00 PM as well as 3 other nonstop flights available for under $100!  For the same price as one of those Frontier or United flights where I would have to pay extra for a carry-on bag, checked luggage, and even snacks and refreshments on board, I can get all that for free by flying with Southwest!  
Clicking on the price for the flight I want will take me to the booking screen to make my purchase.
And that's it!  It's a pretty straightforward process.
So even if you don't see any Southwest flights in your Google Flights searches (since Google Flights will only pick up the nonstop flights that Southwest offers and not their connecting flights), it's worth it to check their website because they might offer a connecting flight that's better than the other ones you find on Google Flights!
And if you simply prefer flying nonstop or you just want to see what cities have nonstop flights offered by Southwest as a way to plan out your next travel destination, click below because in Part 2 I show you a way to see exactly which cities are connected via nonstop Southwest flights!