So as I said in Part 1, if you're okay with flights that have one or two short stops, then you should be searching for Southwest flights in addition to other airlines on Google Flights anyways.  But let's say you prefer nonstop flights or you just want to see what cities Southwest flies to in the first place.  
Southwest doesn't really make that easy for you so on this page, I show you the easiest way to see exactly which cities they fly to as well as which ones they fly nonstop between!
First let's go back to the search page:
Just doing a normal search for flights on Southwest's website doesn't give you any indication of whether or not a nonstop flight exists between those two locations so that won't help.  
What you should do instead is click on the button in the bottom left that says "Where We Fly". This is where we end up when we click that: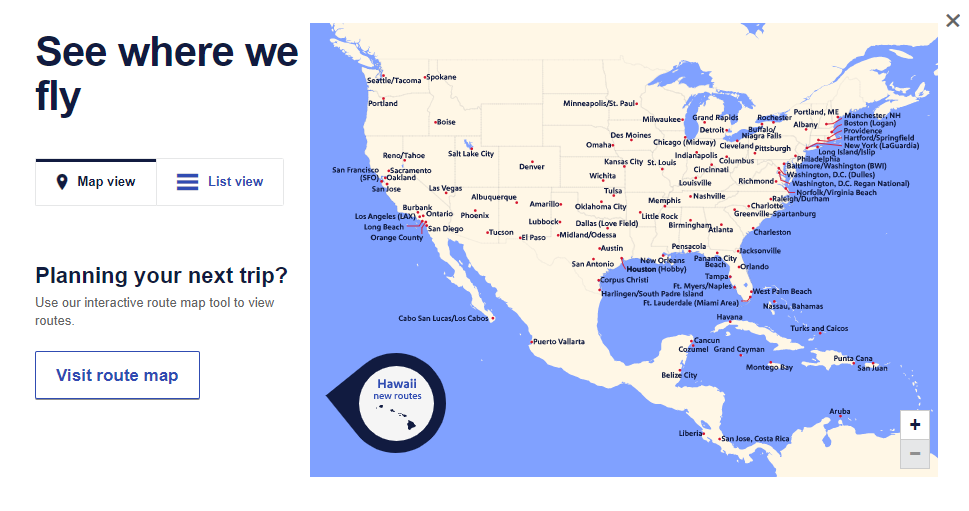 Here you can actually see every location that Southwest can connect you to.  No matter which two cities you pick from this map, Southwest will be able to connect you to them, even if it requires one or two quick layovers.
But this map won't show us cities that are connected with nonstop flights.  To see that, we have to click on the "Visit route map" button.  Doing that takes us to their route map page: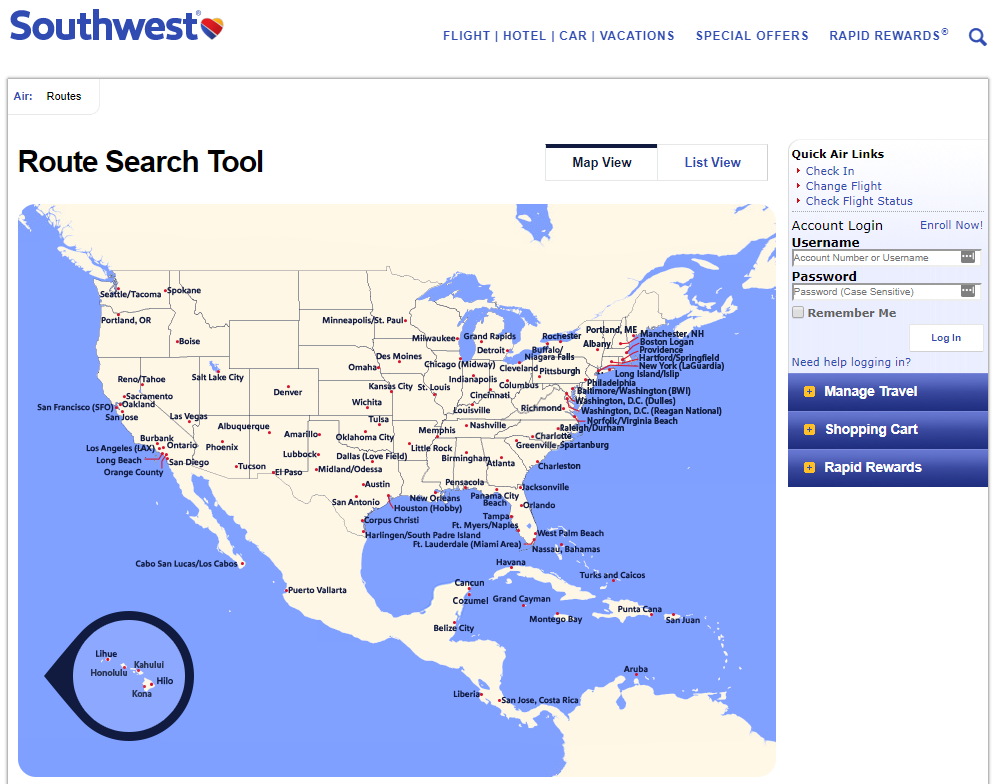 The link promised us an interactive map, but this is just a bigger version of the previous map with no new information or interactive elements.  Hopefully they make it interactive soon, but until then I want to take you to the List View which is the button above the map to the right.  
Click that and this is what you see:
So this is a full list of all the airports that Southwest flies to.  What's cool about this list is it allows you to easily see what cities are connected via nonstop flights.  To do that, first we have to check the box that says "Nonstop flights only".  
After that, we just click on whatever departure city we want and then the list of arrival cities to the right will update with all the cities that have direct flights from our departure city!  
By the way, you might be wondering why Hartford comes before Birmingham in the list if it's in alphabetical order, but that's because it's sorted by airport code and not by city name.  This can be annoying when trying to find your city and until they add a search function to this page, you may have to google the airport code for your city first to find it easily.  Otherwise, just carefully go down the list to find it. 
Let's see what connecting airports there are for Hartford: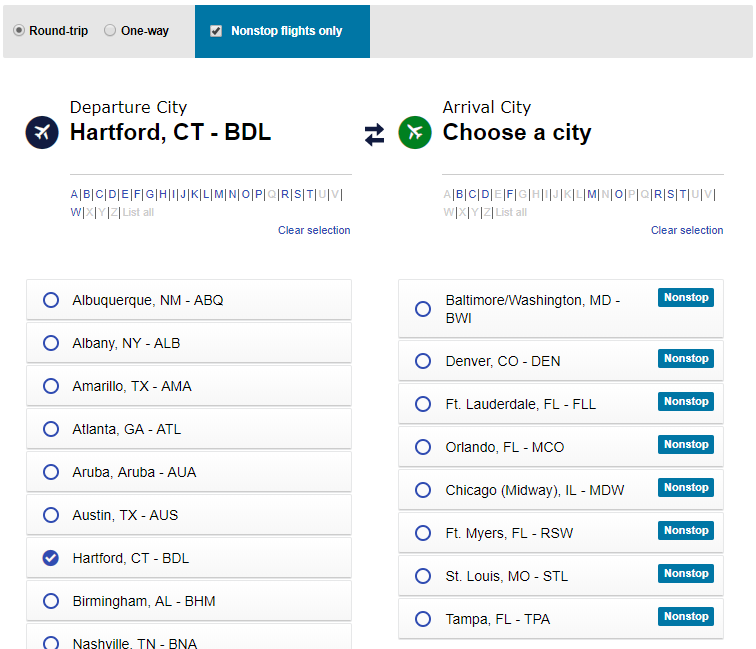 Now that's better.  A clear view of the airports that Hartford is directly connected to with Southwest!  Clicking on any one of those airports will let me search for flights between the two cities.  
If I can't see the direct flight that was promised, either Southwest doesn't offer one on the day of travel that I have chosen or I just need to filter out the connecting flights from my search.  For example, a search for a Hartford to Denver flight on Mar 10 gives me the following result when filtering for nonstop flights only: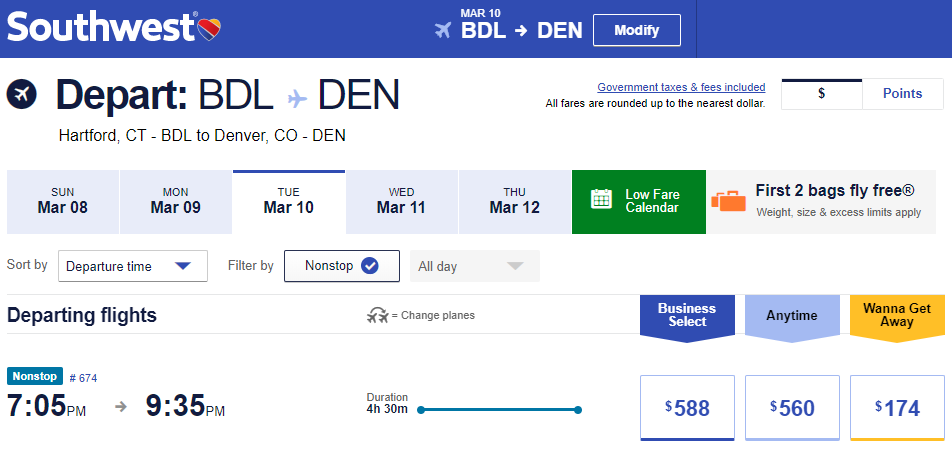 This is a great way to get ideas for your next trip and find out exactly where Southwest can fly you to nonstop!
And an extra tip for you if your dates are flexible, make sure to check out the Low Fare Calendar that Southwest provides as it is similar to the Calendar feature from Google Flights which I discuss in Part 3 of my Guide to Google Flights and can show you cheaper dates for you to fly on!  
For example, if I click the green Low Fare Calendar button for this search, it takes me to a new page which looks like this: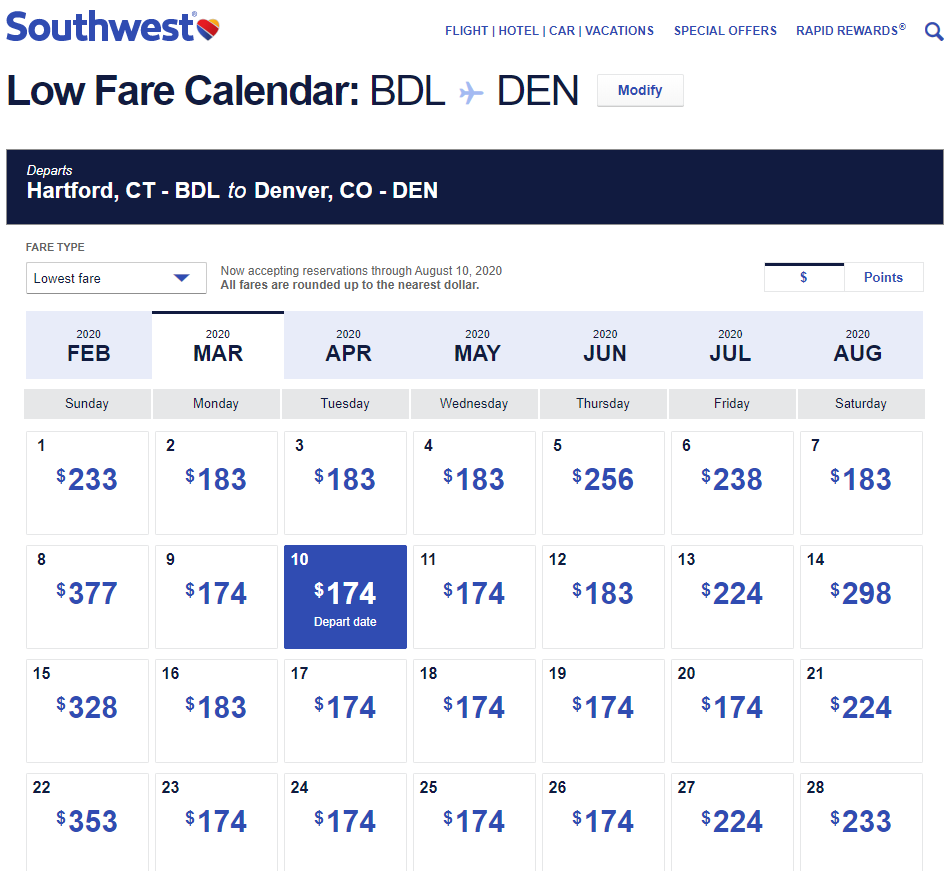 Here I can see the cheapest prices for all the flights between those two destinations on any given date up to 7 months in advance so if I have some flexibility in my travels, I can make sure I find the best flights possible!
And that's all there is to finding and booking flights with Southwest Airlines!
Something you should know about Southwest Airlines is that it is unique when it comes to seating as you do not get assigned a seat or get given the option to reserve one in advance. Instead, when you get called to board, you can take whichever seat you want once you're on the plane.
There aren't many other airlines that do this and with most airlines, getting a good seat without paying extra for it can be difficult. However, I show you how you can get the best seats possible with any airline for free in my Airline Seating Guide.